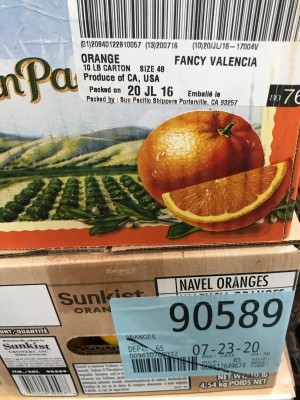 Anyone having issues with produce spoiling much quicker than they should? I have made a few Costco trips and each visit I'm always left with something spoiling much sooner than they should (especially oranges).
My most recent shopping trip - I looked deeper on the labels and noticed some produce items (at Costco) there will be a label that shows you when the item was packed on. I've seen this on: oranges, peaches, zucchini, mushrooms, lettuce and so forth.
This can help determine which produce is best for you to buy.
Example:
Here's 2 boxes of different branded oranges (same price). You can see the top one was packed on July 16 vs July July 23.
Although we know when they were packed, we don't necessarily know when the oranges were picked. But the 7/23 case did look fresher and we ended up buying that one and had no issues. Normally shopping, we would have bought the top box because it's on top already.
Also, if you have any spoiled food that you feel shouldn't spoil so quickly or before the expiration date - Costco gladly accepts it back for a refund.