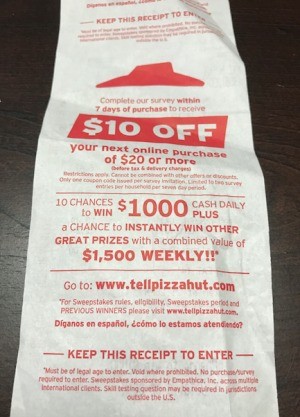 Not all receipts are trash! Some actually have potential discounts that could help you save on future purchases.
For instance, I had Pizza Hut last week and was asked if I wanted a receipt. I did not really need my receipt, but I said sure anyway! I'm glad I did because if you complete a short survey, less than a minute of your time, you get $10 bucks off!
We ordered pizza again today, saved $10 bucks and got another receipt and you know the drill!
Other stores that offer some sort of potential discount are:
- Chick Fil A (some receipts you will get a buy 1, get 1 free Chick Fil A sandwich offer if you do a quick survey)
- Panda Express - free 3rd entree if you do a survey
- KFC - free go cup if you do a survey and purchase a drink
- Rubio - free large drink if you do a survey
- Jack in the Box - tacos if you do a survey
- And many other places!