Cheesy Eggplant Stacks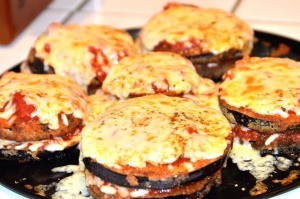 These are like an eggplant Parmesan casserole, but they're individual eggplant stacks, that you can make as many or little as you want. They're so delicious, plus they're easy and fun to make.
Any leftovers heat up perfectly either in the oven or microwave. Serve with a side salad and garlic bread, or just alone. The tender eggplant, with the tomato sauce, sausage, and melted cheese is wonderfully delicious!
Prep Time: 30 min.
Cook Time: 30-45 min
Total Time: about an hour
Yield: 6
Ingredients:
1 sliced eggplant
1 cup cooked sausage
1 any brand jar spaghetti sauce
2 cups mozzarella cheese or jack cheese
1 cup bread crumbs
2 beaten eggs
1 cup flour
1 Tbsp Italian seasoning
1 tsp salt and pepper
1 tsp garlic powder
1/2 tsp oregano
1/2 cup water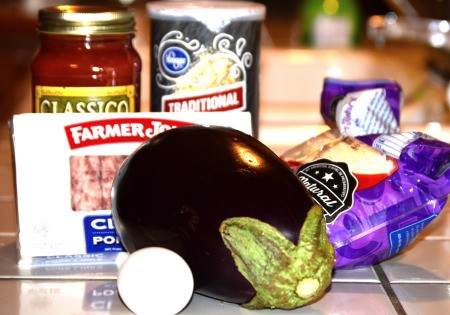 Steps:
First wash and slice your eggplant into 1/2 inch slices.

Place the eggplant slices on paper towels and then salt each slice. Leave the salt on the slices about 20-30 min. *Important*, after your eggplant has sat with the salt on top of the slices for 20-30 min, then rinse with cool water and pat dry with paper towels. Then place them stacked up for easy handling later in this recipe.

While your eggplant is sitting for 20-30 min with salt, you can fry up your sausage.

When your sausage is done cooking, pour in your spaghetti sauce and just heat until medium warm, then you can just leave it sit on the stove top turned off until we're ready to put the "stacks" together. If your sauce is thick, add 1/2 cup of water to it, that way when it cooks in the oven, it won't be dry.

First we're going to season our plain bread crumbs with the Italian Seasoning, garlic, salt and pepper.

Now it's time to get the assembly line in order. *Rinse off your eggplant slices* and pat dry. You'll need a bowl for your seasoned bread crumbs, and bowl for your eggs with a dash of milk and beaten, and a bowl with your flour. Place your stack of sliced eggplant next to your bowls, *make sure you've rinsed and patted dry the eggplant slices* and this is the assembly line to fry up your eggplant. It makes it much easier to have everything ready to go like this.

We're going to now take the patted off eggpant slice, one at a time, and dip it into your bowl of flour. Make sure it's pretty evenly coated, or dusted with flour on both sides. Then dip the flour coated eggplant slice into the beaten egg, and then into your seasoned bread crumbs.

Heat your skillet with cooking oil to about 1/8"-1/4" deep. Make sure your oil is a good medium hot, then place your coated eggplant slices into it.
You can test if it's hot enough by just dropping a few bread crumbs into it, and if they sizzle, it's ready for your coated eggplant. Fry until golden browned on one side, then flip over and cook the other side.

When they're golden browned, I just put a plate down on the back stove burner with paper towels and take one fried eggplant out at a time as they get done, and keep layering paper towels to absorb the oil. Just put them aside when they are done.

Now the layering of the "Individual Eggplant Parmesan" begins. I like using a pizza pan for these, because if the sides of the baking dish are deep, then they're more difficult to get out when they're done, so a deep baking dish is not needed. A cookie sheet can be used too if you have more "stacks".

AND it's easier to lift the "individuals" out with a spatula when the sides of the baking dish are very shallow, such as a pizza pan is.

You'll be using 2 eggplant slices for each "individual" stack. Place your coated and fried eggplant slices on a baking dish. Spray with Pam if it's not non-stick. Spoon some of your sausage spaghetti sauce over the tops of the single eggplant slices.
Then top with your cheese, and repeat the process; add another eggplant slice, then the sausage spaghetti sauce, and cheese again.
Top with a little sprinkle of oregano on each. Bake in the oven pre-heated and (not covered) for 30-45 min on 325 F.
Remove from oven, and you're ready to serve with a salad and or garlic bread, or just enjoy them by themselves.
Add your voice! Click below to comment. ThriftyFun is powered by your wisdom!

attosa
Diamond Post Medal for All Time! 1,246 Posts
July 16, 2019
0

found this helpful
Oh boy. Another eggplant winner from Suz. I wish I had this right now!!! :9 THANKS for sharing this!

July 17, 2019
0

found this helpful
Thanks Attosa! :)

July 17, 2019
0

found this helpful
I forgot to say, any sausage can be used for these individual "stacks", which I used Farmer John sausage (only) because it was the only sausage I had on hand, but Italian sweet or hot sausage would be great too, (I've used that before) also and it's wonderful.

July 21, 2019
0

found this helpful
This is a keeper for sure!
Mouth watering!
Such clear instructions and pictures - ready for a home ec class!
Thanks - we'll have this for sure.
Add your voice! Click below to comment. ThriftyFun is powered by your wisdom!
Published by ThriftyFun.
© 1997-2022 by Cumuli, Inc. All Rights Reserved.
https://www.thriftyfun.com/Cheesy-Eggplant-Stacks.html