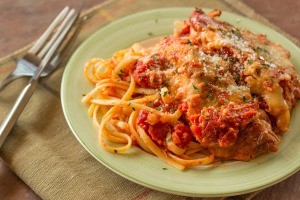 Ingredients
3 Tbsp. seasoned dried breadcrumbs
3 Tbsp. grated Romano cheese
4 thin-sliced boneless chicken cutlets***
1 Tbsp. olive oil, divided
1 (14-1/2 oz.) can diced tomatoes with Italian herbs, liquid reserved
3 cloves garlic, peeled and crushed
2 Tbsp. sliced pitted Kalamata olives
2 Tsp. balsamic vinegar
1/8 tsp. red pepper flakes
3 Tbsp. coarsely chopped fresh basil leaves
Directions:
Combine breadcrumbs and cheese in shallow dish or pie plate. Dredge the chicken pieces in crumb mixture to coat on both sides.
Heat 1-1/2 teaspoons oil in a 12-inch nonstick skillet over medium heat. Add half of the chicken and cook until golden and cooked through, 2 to 3 minutes on each side. Transfer to a plate; cover with foil and keep warm. Repeat.
Add drained tomatoes, garlic, olives, vinegar, red pepper and 1/3 cup of tomato liquid. Cook 2 minutes, stirring occasionally until slightly thickened.
Remove from heat and discard garlic (if desired). Stir in basil. Spoon sauce over cutlets and serve.
Source: ***This recipe was given to me by an Italian neighbor lady who gave me a hint of buying the chicken breast/s on bone, peel off skin and remove the bones, then pound the breast to desired thickness. It saves money, but not time.
By Connie from Cotter, AR