Julia
Bronze Post Medal for All Time! 146 Posts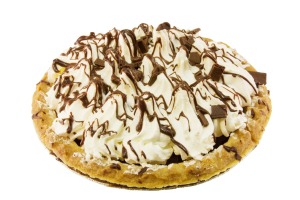 This is one of those desserts that I didn't see as often as I'd have liked when I was growing up. My father liked cream pies, but much preferred the heavier fruit pies, and it wasn't until I was grown that I found out why. He liked the fruit pies very sweet, and then he'd add a thick wedge of extra sharp "rat cheese" (good cheddar) to it while it was still hot. The cheese was too sharp to suit me when I was really young, but I learned to love it as much as he did, and now, it's my favorite of all cheeses.
This chocolate pie is the favorite of my husband and our son, so it is made fairly regularly now which makes me very happy. Every pie I make is "their favorite" though, and other than my apple and chocolate cream pies, which are their MOST favorites. They'd be very happy if I only made Lemon Meringue and Coconut Cream.
Ingredients:
3 egg yolks (save whites for meringue)
3 cups whole milk (not reduced fat or 2 % or any of that stuff)
1 cup sugar
1/3 cup all-purpose flour
2 Tbsp. Hershey's Cocoa Powder
1/4 tsp. salt
3 oz. unsweetened chocolate (finely chopped)
3 Tbsp. butter
2 tsp. vanilla
Meringue:
3 egg whites
1/2 tsp. vanilla
1/4 tsp. cream of tartar
1/4 tsp. salt
7-8 Tbsp. sugar (super-fine if possible)
Directions:
Unless it's a recipe that I make frequently, and know from start to finish all from memory, the first thing I always do is read the recipe all the way through, and assemble all the ingredients. Measure everything and have it all ready to add to your filling as you go.
You will need one 9 inch single crust pie shell, all made, baked, and at least partially cooled. Use your favorite homemade if possible.
Preheat oven to 350 degrees F. for browning the meringue.
Break eggs, being careful not to get any of the yolk in the whites or they will not beat up into meringue. Put the whites immediately into a clean oil and grease-free stainless-steel bowl, Do not use plastic as it is probably oily even though it's been washed. Set the egg whites aside to warm up to room temperature. I repeat, they will beat up higher if they are not cold.
Be ready to stay right with it once you start making the custard filling. It's important that you stir continuously while it's cooking so that the egg yolks do not "make scrambled eggs" in your custard. They will cook gradually and you'll have a nice lump-free custard. If you do end up with lumps, whisk briskly and see if that helps. If worse comes to worse, eating a deliciously-flavored lumpy chocolate cream pie isn't the worst thing that can happen to you.
You will also not have to go through the extra process of scalding the milk if you do it this way.
Beat egg yolks and add milk. I do this right in my saucepan that I'm going to cook it in. No need to mess up another bowl. Add sugar which has been mixed with flour, salt, and Hershey's cocoa, and stir everything together very well.
Place saucepan on burner and cook on medium heat while stirring continuously until mixture thickens. Add the finely chipped unsweetened chocolate, and cook for 1 minute longer stirring all the while to melt chocolate.
Remove from burner, and add butter, but do not stir for 2 minutes. Add vanilla and stir it all up together now. Allow to sit undisturbed for about 10 minutes while you make the meringue, then stir the custard and pour into the baked pie shell.
Making Meringue: Add salt and cream of tartar to the unbeaten egg whites and start beating. This can be done quite well by hand, but is much faster if you use a handheld mixer on medium speed. After the egg whites are all beaten and have begun to look like meringue, add the vanilla and the sugar, a Tablespoon at a time while continuing to beat.
When the meringue is done and will stand in nice firm peaks as you lift the beaters up quickly, start spooning it onto the custard in the pie shell. Add it all at once if possible and smooth from the center out to the edge making sure you "lock or seal" the meringue to the crust all the way around. This will help prevent shrinking of meringue, and "weeping" later on. (Weeping is when the sugar turns to liquid and oozes).
If you're using a long thin metal spatula, lay it flat on the meringue and lift up to make pretty peaks all over the pie. Place pie in the preheated 350 degree F oven and brown the meringue to your own satisfaction. Some people use a hotter oven, but we're talking about eggs and they need to brown slowly so as to prolong the small amount of baking time. This may be just "all in my head", but I want to think my eggs are all cooked even if they're not.
Servings:
6-7
Time:
20-30 Minutes Preparation Time
about 20-25 Minutes Cooking Time
Source: I believe this recipe was first copied from the back of a Hershey's Cocoa can so long ago that I was just a little child, so that'd have to be about 70 years ago. It's one that my Mother used and the one I've always used. I've never found anyone who didn't think it was the best chocolate pie they'd ever eaten. No matter how good something can be made from "from scratch", and that's the way I learned to cook. I'm still pretty dumb when it comes to cooking with all the new boxed foods, and tend to shy away from them as they all contain preservatives (which may or may not be good for us, depending on who's doing the talking, the buyer or the seller).
The one place I veer from that rule is in canned fruits and vegetables. I use them as freely as I do fresh or frozen, and when prepared right, it'd be difficult to know where they came from unless you were watching.
By Julia from Boca Raton, FL
Read More

Comments