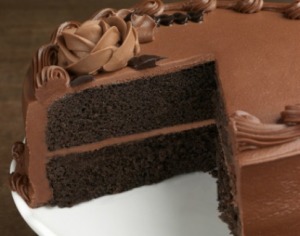 This is a quick and easy chocolate that also doubles as chocolate icing. In a microwave safe bowl, place equal quantities cream cheese and chocolate bits (both can be generic). Heat in microwave on MEDIUM for 1-2 minutes. Stir well, as cheese is hot and will melt chocolate. Use as desired.
By Leonie from Warrnambool, Victoria, Australia
Read More

Comments
I am craving the ultimate chocolate frosting recipe. One that can withstand being out of the fridge, and has the most extreme chocolate flavor... Thank you,
Mels from Canada =)
Answers

July 28, 2004
0

found this helpful
Try the frosting that goes on a Texas sheet cake. It tastes just like fudge & hardens at room temp.
1/3 c. milk
4 T. cocoa
1 stick butter
melt in sauce pan, then add
1 lb. powdered sugar
1 t. vanilla
spread over cake while still warm (frosting)
let set til cool

July 28, 2004
0

found this helpful
Oops, forgot to add that you need to stir until lumps are gone. :o)
By Ann (Guest Post)
July 28, 2004
0

found this helpful
yummy, Linda! thanks for the recipe! I'm going to try this! :-)
By jamie (Guest Post)
July 28, 2004
0

found this helpful
In a bowl, in the microwave, melt 12 ounces of chocolate chips with a tablespoon of oil for about 1-2 minutes or until the chips are melted. Stir in powdered sugar until it is the right consistency-not much, or it will be too thick. This makes a very rich frosting.
By Doggy (Guest Post)
July 28, 2004
0

found this helpful
Fast, easy, rich frosting
I don't know if this is the "ultimate", but my fam likes it:
Melt 1 stick butter. Add 2/3 C. Hersheys Cocoa stirring. Add alternately, 3 C. powdered sugar and 1/3 C. Coffee. (if you are going to pipe through a decorater bag, sift the sugar) Beat. Add vanilla, almond or orange flavoring to taste while beating. If too thick, add coffee a few drops at a time.
My family fights over who's gunna lick the bowl (and they're all grown-ups lol) ; )
By Elaine (Guest Post)
July 28, 2004
0

found this helpful
1 cup sugar
1/4 cup margarine or shortening
1/4 cup milk
dash of salt
heat above on stove in nonstick pan. Bring to boil and boil for 2 minutes. Remove from heat and add
1 tsp vanilla and 1/2 cup chocolate chips (I use half semi-sweet and half milk chocolate). Stir until chips melt and it starts to get thick. spread on cake.
Answer

this Question

I need recipes for homemade chocolate frosting/icing please.
By Tamara

Answers

April 22, 2012
0

found this helpful
What type of icing, the type you can pour like glace or frosting as on a birthday cake?
For the pour on type ~ Powdered sugar, Coco and a tiny bit of milk. Depending on how much you need . . . for 1 cup of P. sugar ~ add 1 tablespoon of coco and 1 to 1 1/2 Tbsp.
milk, you can add 1/2 tsp. of Vanilla. It will thin more than you think be careful with the liquid. You can add more coco if you want more chocolate. No real rules on this one! : )
Answer

this Question