EllenB
Gold Post Medal for All Time! 858 Posts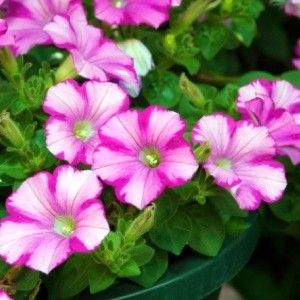 In the past few years, the old-fashioned, easy-to-grow petunia has once again become a popular annual among gardeners. From borders to baskets, and mass plantings to cut flowers, these members of the Solanacea (Nightshade) family are extremely versatile in the landscape. Petunias come in an endless range of colors and forms and fall into five major classes based on their size and growth habit. Instead of choosing a variety based strictly on color, consider the types that will best serve your particular needs.
The Five Basic Classes of Petunias
Grandiflora
Flower type/size: Single or double flowers. Early bloomers. At 3-4 inches in diameter, these petunias have the largest flowers.
Growth habits: Some varieties are cascading, but most have upright growth that develops into 12-15 inch mounds.
Best for: Hanging baskets, window boxes, mass plantings, and large containers.
Note: Grandiflora petunias continue to be the most popular type of petunia. In high heat, their stems tend to stretch and become lanky. They do best in cooler weather.
Multiflora
Flower type/size: Single or double flowers, 1-3 inches in diameter.
Growth habit: Compact growth, but prolific bloomers.
Best for: Mass plantings, borders, containers, and window boxes.
Note: Multifloras have smaller flowers, but lots of them. They perform better than most petunias in adverse weather conditions and are more disease-tolerant than grandifloras.
Floribunda
Flower type/size: Single or double blooms that are smaller than grandifloras, but larger than multifloras.
Growth habits: Compact growth; produces many flowers.
Best for: Mass plantings, hanging baskets, and pots.
Note: These hybrids are an improved version of both the grandifloras and multifloras. Like grandifloras, floribundas flower early. Like multifloras, they produce a prolific amount of blooms and perform well in less than ideal weather conditions.
Miliflora
Flower type/size: 1-1.5 inches in diameter.
Growth habits: Compact, miniature plants that produce an abundance of flowers.
Best for: Edgings, containers, and hanging baskets.
Note: These miniatures are about 2/3 the size of "normal" petunias. They bloom earlier and require less maintenance than other types because you do not need to pinch them back midsummer in order to keep flowering. Millifloras perform well under adverse conditions.
Spreading
Flower type/size: Flowers are 2-3 inches in diameter; form along entire length of stem; limited color selection compared to other types.
Growth habits: Sprawling, trailing.
Best for: Hanging baskets, window boxes, and as ground covers.
Note: Made popular by the 'wave' varieties, trailing petunias hold up very well to heat and humidity. Stems do not require being cut back in order to continue flowering.
Color and Performance
In the past, petunias came in three basic colors: red, white, and blue. Today, colors vary from solid, bicolor, deeply veined, or striped, to the striking picotee types (solid base with margins in contrasting shades). Flowers can be single, double, smooth, or ruffled. Most cultivars are bred to be disease-resistant, but in some cases, color does seem to have an affect on performance.
Petunias are susceptible to a fungal disease called Boytris. It thrives in cool, wet conditions and forms a powdery mildew on stems, leaves, and flowers, especially after it rains. Red, salmon, and yellow colored petunias seem more vulnerable to Boytris than colors like magenta, purple, and blue.
Botrytis also affects grandiflora varieties more than other types, although the new varieties are much more disease-tolerant than older varieties. To avoid Boytris, always water your petunias from the bottom, and make sure they get plenty of air circulation (don't overcrowd them).
Color and Fragrance
The fragrance of a petunia is more affected by color than it is by variety or type. Dark colors like purple and blue, as well as rose-colored petunias have a light, sweet smell, and double flowers tend to be more fragrant than singles.
Comments
Read More

Comments