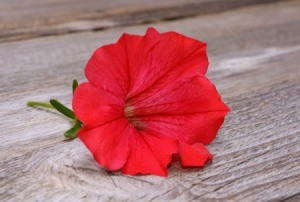 Question:
Interested in knowing how to save my petunia seeds so that I can have the same colors each year. I found one that I like.
Answer:
Petunia seeds are located in a seedpod at the base of the flower. If you were to remove the flower, you would see the pointed seedpod located inside of the sepal (which is sticky). The pod contains numerous seeds that look like tiny, dark balls.
To collect them, let a few of the blossoms die back naturally (don't deadhead them). When they're dry, pinch off the blossoms just behind the base and put them in an airtight container or paper bag for storage. The seeds can be started indoors 10 to 12 weeks before your last expected frost.
If your petunia is a hybrid (as many petunias now are), the offspring will usually revert to the characteristics exhibited by its parents or grandparents, so it's unlikely you will preserve the exact colors you're looking for. That is, or course, if the seed you save is even viable (a fair percentage of hybrid seeds are sterile.
Ellen
Answers
By Lance (Guest Post)
August 14, 2004
0

found this helpful
Best Answer
Still looking for the answer of where on the flowering Petunia (flower) plant I can harvest the seeds. Thanks!

August 15, 2004
0

found this helpful
Best Answer
I've cut off the dry pods and saved them. It would be best to put them in a paper lunch bag until they are thoroughly dry. The problem with a lot of petunias is they are hybrids so they can revert back to the original "parent" plants. You will definitely get petunias from your seeds but they may not look like the ones you took the seeds from.
In answer to your question, let some of the flowers die out, don't pick off the blooms. Let them develop the seed pods then let them dry on the plant if possible. Before the seed pods burst open, pick them and put them in a paper bag. Make sure you mark it so you know what is in there.
In the spring you should have some petunia seeds. They may not look like your favorite but it's worth a try.
If you want the same kind and they are a hybrid, you will have to find out which plants created the hybrid which is a what the botanists do. You could look into it at by searching on creating hybrids in the search engines.
Good luck,
Susan
By Laura (Guest Post)
April 15, 2008
0

found this helpful
Best Answer
Petunia seeds look like little tiny black balls. They are at the base of the flower. The little pod starts out green then it drys to a tan color.
You want to make sure you get the little tiny seeds before the seed pod breaks open. An envelope is a good place to store them, hope this helps.

July 15, 2010
0

found this helpful
Best Answer
Well I could never find the seeds either and discovered by accident this year how to obtain them. I had a dying petunia plant that looked leggy, so, I cut off some leggy branches and put in my kitchen window in a jar of water sitting on a smooth cotton cloth that I had put there just for catching water dribbles. Little did I know that the flowers would keep blooming faithfully and then just drop all of their tiny black seeds on the cloth below, wow!
I was happy. Now I will have to figure out how to save them into a white paper envelope (probably better than tiny plastic bag) and plant, plant, plant! Hope this helps someone who loves petunias.

October 26, 2010
0

found this helpful
Best Answer
At the very tip of one of the stems you will see a green pointed structure. This is your next bloom forming. Moving a little closer to the dirt, you will see you pretty blooms on several arms. Again, moving closer to the dirt, you will see green pointed structure surrounded by green leaves in a flower like arrangement where the old blooms used to be. This is your developing seed pod. If you look even closer to the dirt you will see many of these pods that have dried up, turned brown, and broken open. You want to harvest before they break open, but you also want to give the seeds as much time to mature on the plant as you can, so keep a good eye on them.
Read More

Answers