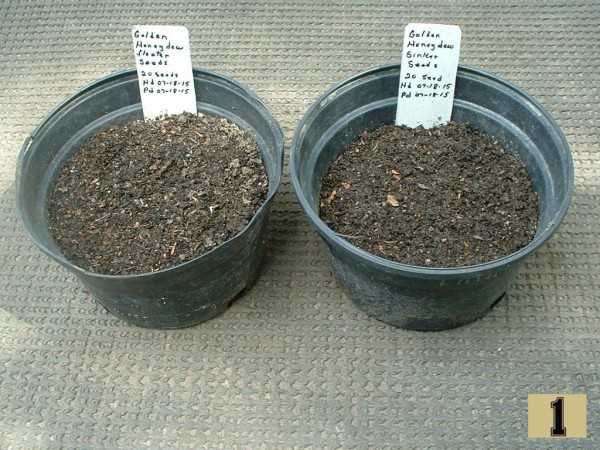 I have read many articles on saving seed. In most all cases, when cleaning and saving seed from pulpy fruit such as tomatoes and melons, instructions are given to scoop the seed from the fruit, remove as much pulp as possible, then place seed in a bowl of water. Some seed will sink to the bottom of the bowl. Some will float on the surface of the water.
Advice is given to skim off all floating seed and discard as they will not produce plants. Reasons given for these seed being 'bad' are: they are sterile, hollow, immature, or otherwise defective. The seed that sink to the bottom are said to be 'good' and should be further cleaned, then dried, stored, and saved for next year's planting.
Sources for this information range from the home gardener to professional seed suppliers to agents with state agricultural departments. Even with many sources being reliable and credible, I have always doubted this information to be correct.
My reasoning: Immature seeds are smaller and lighter and more likely to float. Hollow seeds and seeds otherwise defective would be more likely to float. I questioned that sterile seed necessarily float. I am just a home gardener with no degrees in horticulture. Therefore, I saw no reason why the buoyancy of a fully developed seed would be determined by it's state of sterility or fertility.
I decided to conduct a test with at least one fruit, the Golden Honeydew. I scooped the seed mass from the melon into a bowl of water. I carefully removed all pulp, leaving only seed. These seed were rinsed twice and left in the final rinse water.
I stirred this water, vigorously. Within one minute, about two thirds of the seed were floating atop the water, while the remaining third sank to the bottom. I carefully skimmed the floating seed from the water and placed them in a saucer labeled 'floaters'. I drained the water from the sunken seed, and placed them in a saucer labeled 'sinkers'.
I randomly scooped seed from the floaters collection, counted out twenty and planted them in a soil filled pan. The pan was labeled accordingly. Next, I randomly scooped seed from the sinkers collection, counted out twenty and planted them in a soil filled pan. The pan was labeled accordingly.
Within one day, there was evidence of germination (red arrow). Not to my surprise, the first seedling to emerge from the soil was a 'floater'.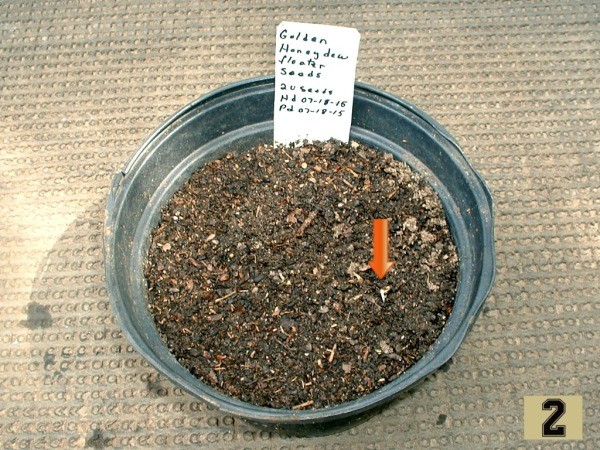 I harvested and planted these seed on 07-18-15. The picture showing fully sprouted seed was taken 07-20-15 (48 hours later). I didn't need to wait until all seed which were going to germinate, did germinate, in order to determine my findings.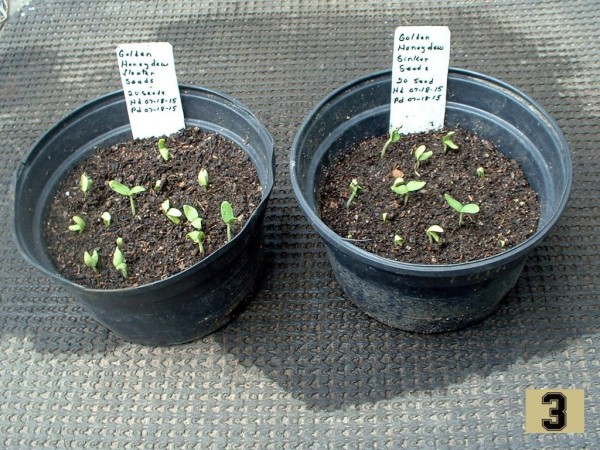 I found that, at least in the case of Golden Honeydew melon seed, there is absolutely no difference in the viability of that seed with respect to whether the seeds float or sink. Having such a high rate of successful germination among all 40 seeds, I assume there were no sterile seeds among them. That fact does not alter my findings about floating seed.
What with the average germination time for honeydew melons said to be at 8-10 days, I also determined that seeds harvested and planted immediately, germinate at a much faster rate than those dried and stored.
I rest my case.