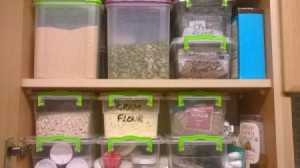 I am a naturally untidy and disorganised person and this one tip makes a huge difference to the state of my cupboards shelves and drawers: Never impulse buy a storage container, whether it's for food, finances, crafts, shoes, nuts and bolts or toys.
You know how it is, you finally decide it's about time you sorted out your mess, so with great enthusiasm you hit the shops and come home with cute stylish, neat or innovative storage solutions only to find they don't fit in the cupboard or on the shelf
Take time to measure your spaces, write down the measurements and take them with you to the store together with a tape measure. Buy only containers that are going to fit the space rather than how they look and your surroundings will be 10 times more manageable and easier to keep tidy once you are sorted.