Reusing Takeout Containers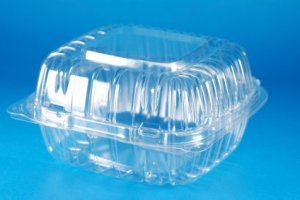 Augment your food storage containers and other storage needs by reusing takeout containers. This is a guide about
reusing takeout containers
.
Solutions
Share on ThriftyFunThis guide contains the following solutions. Have something to add? Please share your solution!
Did you know that the reason the Chinese take out boxes are shaped the way they are is because they are meant to be used as plates?
I never knew!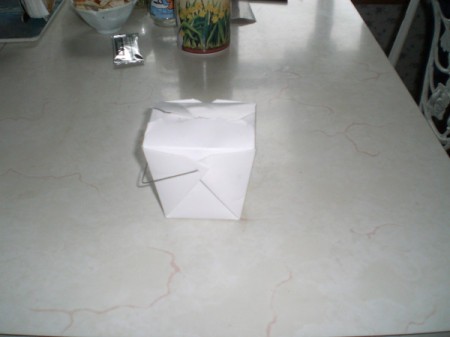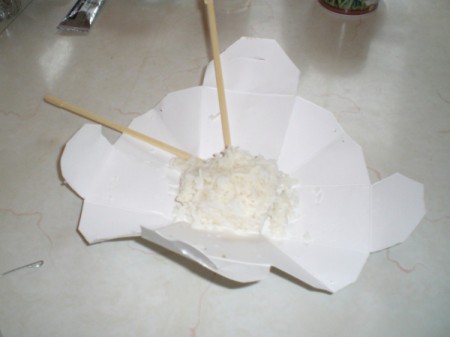 I save most of the better take-home containers we get from eating out at restaurants, some are quite sturdy. Whenever any of my married kids comes over for a meal at my house, I'll usually send some leftovers home with them for their lunch the next day, even if it's just several brownies out of the pan. It saves them a little money and they get the benefits of Mom's leftovers. It even helps us use up bigger meal leftovers as well.
It saves them from having to remember to bring back my better refrigerator containers or use baggies/plastic wrap/foil. I like walking out of a restaurant with leftovers. I imagine they would get the same "joy" coming from Mom's kitchen.
By leslie from Portsmouth, VA
Anytime I go to a restaurant and take the rest of my food to-go, I keep the boxes, wash and dry them, and save them for the holidays when friends and family come over. Then when they want to take food home, I have the perfect containers and don't have to give out my plates or bowls.
For outdoor barbecues, I save all the restaurant plastic silverware and give them to my guests to eat with. That way none of my silverware gets list. Afterward, I wash, rinse, then stick them upright in q tub to wash and reuse.
All foil I use is washed then balled up and placed in my aluminum recyclables.
By Deby from Kansas City
Whenever you get one of those clear acrylic, clam-shell type to-go food containers, especially the smaller ones, wash them out and save them. If you happen to be out for a meal and can't finish it all, you already have your container to take your leftovers home in and you won't need to ask the service staff at the restaurant for another foam container. I keep a few in a resealable bag in the car for convenience. I also toss in a few small resealable bags, too, for bread and other dry food items.
I like the clear containers better as they can be reused many times, are more durable, tend to stay closed, and you can see what is in them once they go in the fridge. I have yet to find a recycling outlet in my area that will take them. Of course, don't use them to reheat in.
By ladybanksia99 from Tucson, AZ
My local grocer has wonderful soup, we sometimes buy 3 a week. They come in a 2 cup Styrofoam container with plastic lid. I've been recycling them and use as leftover containers. It's the perfect size for too much to throw out but not enough to waste a baggie on.
I've also used them for a 2 cup measuring cup, surprisingly I use a lot of 2 cups in flour, or sugar, etc. in baking.
Use care in washing and they last for a good long time. After they've seen better days, I tear them into tiny pieces and use to fill bottom of plants and in the garden.
By Peg from Cortland, OH
My sister-in-law did something for Christmas that we all thought was smart. She saved the containers in which she had purchased take-out food all year. It was easy to just grab and fill them from the left-overs. We all had some good food for the lazy day afterwards when no one felt like cooking.
There was no expense of new containers. No one gave their favorite food containers away with the worry of never seeing them again. These were all the same black bottom, see through lid type, so they stacked easily in open fashion. Great idea.
By Lynn from Bridgeville, PA
November 10, 2004
2

found this helpful
I reuse the plastic container that hot whole chickens come in from the deli. I mix up all the ingredients for a big meatloaf, press into the plastic dome, then dump pressed meatloaf mixture onto a broiling pan; to drain grease when cooking.
Read More...
I always have a supply of the plastic containers delis and Chinese restaurants use. When I have guests over for meals and want to give them a "care package," I don't have to ask them to return the container.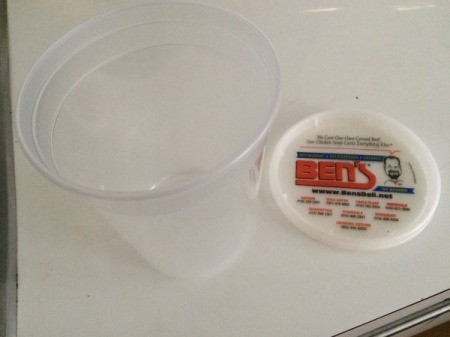 Read More...
About once a week we have delivery meals. Most of the time we end up with 1-2 small clear containers with lids. I use these for pouring small amounts of paint, glue, water, and even smaller amounts of loose beads.
Read More...
December 2, 2004
1

found this helpful
I save and wash deli containers (the kind potato salad comes in). I use them to send "squishable" stuff like brownies and cookies with lunches to keep them from being smashed, and if I don't get them back, not a big deal. By Camilla
Related Content