Ever have one of those ideas that just falls into your lap? Well, this one literally did! I was going through some excess stuff in the office, and I was holding a plastic Band-aid box in my left hand while reaching for something with my right. I accidentally knocked my digital camera off the desk. It fell into the empty Band-aid box and, as it turns out, it fits perfectly! If you need an emergency box for a camera like mine (not all will fit), you need look no further than the standard box that Band-aids come in. They're sturdy and will protect the camera from dust, sun, and most of all, most moisture. (I wouldn't leave it out in the rain, but still). You can cover the box with stickers, contact paper, paint it, put gemstones all over it, or whatever! Or, you can leave the Band-aid box as is, so people don't know what is inside, for a bit more security. I hope this prompts you folks to put this humble box to some good uses.
Note: Other things you could put in an old Band-aid box are a deck of cards, mini sewing kit, parking change, manicure set, mini "office", and so much more!
By Sandi/Poor But Proud from Coos Bay, OR
Comments
August 4, 2010
0

found this helpful
What a wonderful and unique idea for a used Band-Aid container! I never would have thought of that. The digital camera I have fits perfectly. I also found out my GPS device fits great in there. :) Thanks for sharing.
August 4, 2010
0

found this helpful
I don't know why the photos I sent didn't load, so I will try them again if I saved them. I am glad this was a double treat for you qcat22! Well, I didn't. But the camera is like the one from the Walmart website.
Hope that helps!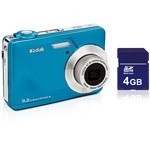 August 20, 2010
0

found this helpful
Wonderful idea! I am carrying my camera in a recycled bubble envelope. I'll go looking for a bandaid box.
Thanks.