Reusing Food Containers
Solutions
Share on ThriftyFunThis guide contains the following solutions. Have something to add? Please share your solution!
I was thinking of posting this tip, when another reader asked the very question, so here goes: Save the containers that grocery and consumable items come in and repurpose them!
Here are a few examples:
Plastic foam meat trays: cut notches on each end and use them to wind articles to keep them from tangling, from Christmas lights to fishing line.
Jimmy Dean pre-cut sausage patty slices come on a very hard plastic twin tray, suitable for beading projects, to set on a bathroom or kitchen counter to hold jewelry, perfect size for a pencil/pen tray, etc.
Coffee creamer shaker bottles can be used for glitter, powdered sugar, a few loads of laundry detergent to the laundromat instead of the whole box, bath salts, you name it.
I always, always buy products in glass jars versus plastic, like salsa, jelly, peanut butter, etc. These are then washed and recycled as homemade jelly and jam jars (yes, they are safe, as long as you seal the jelly with a parrafin wax layer on top). I put hot peppers in vinegar in them, etc.
Other plastic jars with screw on lids are saved for camping trips and the like, to carry shampoo, syrup, ground coffee, sugar, etc. Keeps things from spilling, also raccoons, bears, and sugar ants can't unscrew the lids!
Metal coffee cans instead of plastic store cooking oil after use.
Spices in clear glass or plastic bottles-when empty, I use them to store beads I have sorted
Rectangular plastic baby wipe containers store and carry medicine bottles all together neatly
Green plastic berry baskets store kitchen sponges upright to air dry
Plastic net onion bags are perfect for bathtub toys.
Plastic liquid laundry detergent bottles with the spout removed are perfect to sit beside the sink for compost scraps; screw the lid on to keep bugs out, odors in, until you are ready to take them outside.
Any type of food or food safe container with a screw lid in your cabinets or pantry to store flour, sugar, corn meal, grits, macaroni, etc. and will prevent bugs. No food, no air, no survivors! Simple as that!
When you wash a lidded container, even though you dry it, before you store it, place a paper towel in it, then close the lid. This will absorb excess moisture until you are ready to use it,and will also prevent rust on metal canning jar lids stored on their jars.
By Gloria Hayes from Darien, GA
Any time if my mother would buy sherbet ice cream, she would usually keep the containers to clean out first and use the containers for anything. For Example:
Put food in them so we wouldn't use any plates, saving money from the water bill, Ajax soap, and time in the kitchen.
Containers to store seeds.
Store liquid substances at room temperature, depending how long before you are going to put it in the freezer or whatever place is needed.
To place soaps in while taking a bath, so it not disintegrate by heavy showering or dropping the soap while taking baths. Also good for traveling with soap.
Keep it as a piggy bank.
Keep hard to find tiny objects in the container. Even label it "You forgot something", just as a reminder so you won't panic.
Plant a little flower in for your windows.
Use to store anything homemade. It could be chopped fruits/vegetables, makeup, remedies, jams, pickles, etc.
Decorate the containers as a gift for parties or whatever you want to do.
What's the point of buying small containers from a dollar store, when you can use food containers for anything.
Source: my mother, Kathleen
By ERM747 from Houston, TX
I have a habit of re-using containers from food and drink items. This morning my visiting son yelled to me that the coffee creamer had gone bad. I knew immediately what had happened.
I use the flavored refrigerated creamer for coffee. When it was empty, I cleaned it out and put mixed pancake batter in it. Easy and simple way to have your pancake batter ready to go in the morning without having to mix every day.
Well you guessed it! He had grabbed the container with the batter and poured himself a big dollop in his coffee! You'd think he would learn after his big glass of hummingbird food "kool-aid" (stored in a half gallon milk container) he enjoyed last Spring.
By nonniebeth from Rome, GA
I poured a can of pineapple into a plastic tub and realized I didn't have a lid. Then I went to get one with a lid, and found out it didn't have one either.

Save your plastic containers from store bought items to reuse at home. My husband uses butter bowls to take soups, spaghetti, etc.
to work. Then throws the bowl away and has nothing to keep up with.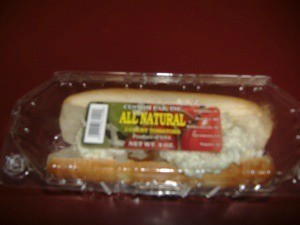 Read More...
I like to recycle things and I have found that the containers for coffee creamers are great for elbow macaroni.
Read More...
I use margarine and cottage cheese containers for storing food in the fridge. To ID which one is actually the margarine or cottage cheese, I put a rubber band around that one. It not only IDs it, but helps to grip the container especially if you have small children.
Read More...
If you have a sleeve of crackers that you want to transport whole, slip them in a Pringles or Stax can.
Read More...
I used a 35.3 oz. Nestle Coffee-mate container to apply water proofing sealer to our deck. The container is comfortable to hold and it made the job much easier. After I finished, I put it in the trash.

Questions
Ask a QuestionHere are the questions asked by community members. Read on to see the answers provided by the ThriftyFun community or ask a new question.
December 23, 2012
0

found this helpful
What can plastic frosting containers be used for?
By Judy
Answers
December 24, 2012
0

found this helpful
I use them to give my cat a bit of tuna. I don't like to mix it in his dry cat food and I pick it up as soon as he's done.
Answer

this Question

...
Related Content