Two of my plastic containers are so close to the same, but with one small difference. I am always grabbing the wrong lid. So today, I marked the bottom with an indelible marker "B" to indicate the lid color.
Now I can toss the yellow back into the basket it came from. Now when I grab the bottom, I will know it's the blue lid that goes with it.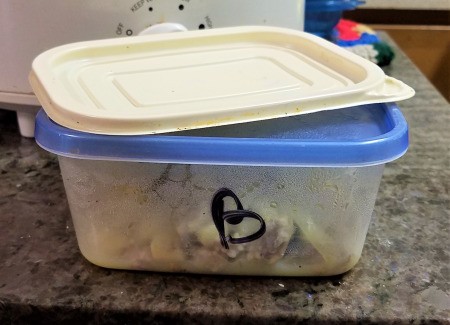 Read More...

Onesummer
Bronze Post Medal for All Time! 219 Posts
What is best airtight canister/storage container available to store things like, flour, rice, and meal in? I am looking for something that is airtight. I purchased Rubbermaid plastic canisters a year ago and I've noticed they are not as airtight as they were when I first purchased them. Is Tupperware better?
By Onesummer
Answers

November 11, 2010
0

found this helpful
If you need large storage bins, check at a bakery counter at a big grocer and ask if they give away their 5 gallon "cake frosting" containers. They might offer them to you free of charge and probably will not have been cleaned of the frosting residue. Just don't take them without the lids if you need them for dry storage. Always helps to make friendly, sincere, chat with a responsive employee who may be able to "save" them for you.
For smaller storage containers, the plastic jugs that many coffee brands now use are handy for a number of dry storage uses. If you don't buy, drink coffee, find a friend that does and ask if he or she will save the plastic containers for you.
As well, the plastic, one gallon milk jugs are good, too, especially for things like dried beans or different rices that can be easily funneled in, and simply poured out, as needed.
Make sure all containers are cleaned and dried thoroughly before re-purposing.

November 11, 2010
0

found this helpful
I loved KC's ideas. Let me add another. If you can find the clear plastic containers that jerky and beef sticks come in and the store will keep them for you, that are amazing. You can keep little things inside in zip lock bags, and the screw on seal is perfect to keep them "double fresh".
This shot shows the snap on lid, but I couldn't find the other screw on kind. Those are the best ones!
Good luck!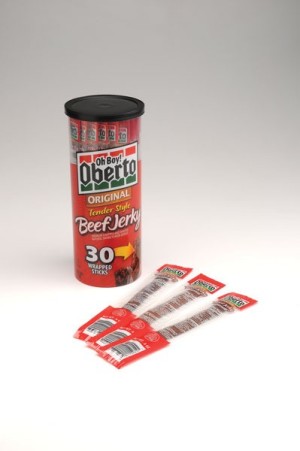 November 11, 2010
0

found this helpful
I used to use all sorts of recycled containers until I had a terrible infestation of pantry moths! I now am investing in Lock & Lock storage containers which are bpa free in the plastic and also available in glass. They are truly air tight and recycled containers aren't very frugal if you end up having to throw away most of your pantry food!

November 11, 2010
0

found this helpful
I use those large glass pickle jars to store my sugar and flour in. I'm going to try to find more of them for pasta, etc. They have worked great for me so far!

November 11, 2010
0

found this helpful
The absolute best containers I've found are called Lock & Lock. You can get these at a good price either at www.amazon.com or www.qvc.com. Just type in Lock & Lock and do a search. They're completely air and water-proof and I use them for just about everything.
No comparison to the Rubbermaid or Pyrex containers I have - Lock & Locks are so much better! Actually saves $ by keeping things fresh longer :-)

Lilac
Silver Feedback Medal for All Time! 450 Feedbacks
November 11, 2010
0

found this helpful
I buy flour and sugar in ten pound bags. I put the bag inside a two gallon zip lock bag. When the flour or sugar is gone I throw it all away and start with a new zip lock bag. I have never had mealy bugs.

November 11, 2010
0

found this helpful
What I use, and is air tight is a FoodSaver. You use your mason jars, and seal it, and it stays sealed.

November 11, 2010
0

found this helpful
Lock & Lock without a doubt.

November 13, 2010
0

found this helpful
In my honest opinion, the best product for scent-free storage is glass, and you can find inexpensive ones that have hinged, tops with silicone gaskets and stainless steel locking. Fancy decal letters or labels can be found in Craft Shops; the clear glass also allows you to see how much of the product is on hand before beginning a recipe and finding out that you have to make a trip to the store. Another nice little storage item is the 'glass mayonnaise jar with plastic tops', perfect for small leftovers, easy identification and no rusty lids.

November 17, 2017
0

found this helpful
A spice that can be bought is dry bay leaves, and about five of these leaves dropped into any container (about a 1/2 gallon with lid) and will deter any bugs. I keep a large jar of rice on my shelf with bay leaves and I haven't found any bugs for at least 6 months. I can't say how long it will last because my rice is used up by then.
Answer

this Question