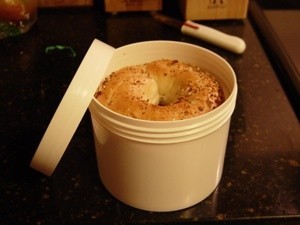 I have discovered a wonderful container that will hold so many things. I chose bagels for the photo, but you can also do the following:
Keep homemade burgers in separated by waxed paper.
Make a bagel sandwich and take to work with nothing spilled on, slid out, or crushed.
Keep seasonal coasters in to store.
Keep those big flat crackers that are so good for us without them breaking.
Make and keep your own face cream, bath salts, soaps, or beauty supplies.
Keep all your scrunchies clean and safe, store the bracelets and necklaces you love for travel.
Create a sewing kit, first aid kit, mini office kit, parking or vending change, pet treats, kid treats, and "you" treats, and keep in the car.
Mark it with something like "plant food" and put your valuables in it.
If your medicine bottles are short enough, keep them safe and clean inside when you travel.
Keep granulated food like sugar, flour, bread crumbs and so much more from going stale while being able to stack them in your cupboards.
Sewing thread spools fit good in these, and can sometimes be stacked two layers high, depending on the newer or older style.
Keep buttons and small craft supplies seperate and easy to get to when you need them.
Mix up baby food ahead or take formula in something you "know" won't leak.
Now you all need to come up with so much more. Tag, you're It!
Note: I do not know what came in this, but my guess is something medical. You can clean anything with bleach, or you can buy them wholesale at google.com and put in plastic jars with lids.


Source: Saw it, Thought about it, Loved it, Shared it!
By Sandi/Poor But Proud from Yorktown, VA
Read More

Comments
I love the oval cream cheese containers but sometimes, I misplace the lids. Tonight, I had already messed up the bottom when I realized I didn't have the top. So, I slipped a cheap zipper bag over it and put the split pea soup in the freezer.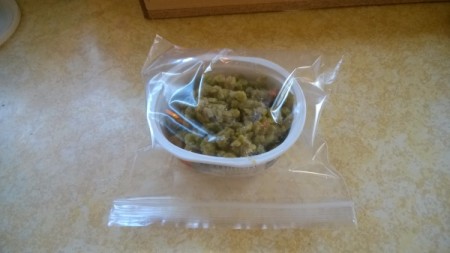 Read More...