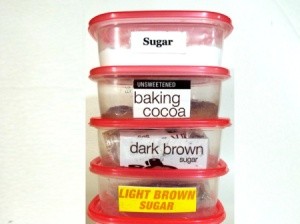 The sugar came in a 5 lb. paper bag. The cocoa came in a round tin. The dark brown sugar came in a plastic bag. The light brown sugar came in a paper box. Imagine storing these conveniently, side by side.
These are just a few of the items I keep handy in a cabinet close to the stove. I keep larger containers for some of these items as well, sugar for one. But, if I need a teaspoon of flour for thickening a sauce, or a half teaspoon of sugar for fried cabbage or hot cocoa, there is no need to get out the larger container. These smaller containers are at arms reach.
I find that keeping and reusing containers of the same size and shape helps keep the cabinet neater and the items are more easily accessible. And probably most important, space is gained.
As in the case of the brown sugar, I leave it in the plastic bag and put the bag in the container. Double protection plus stackability. Also, I think most foods keep better in plastic containers with tight fitting lids rather than in some of the original containers, especially paper bags and boxes.