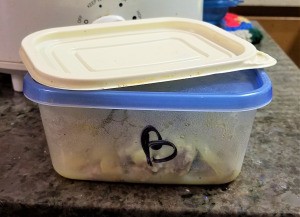 I love getting a "free" food container when I buy certain lunch meats. They are clear and easy to fit, as they are rectangular. I recently got rid of all my round food containers, as I like how square and rectangle fit in the fridge and pantry. And I have the bottoms of all mine in one basket, with the lids in another.
But, two of them are so close to the same, but with one small difference. I am always grabbing the wrong lid. So today, I marked the bottom with an indelible marker "B" to indicate the lid color. Now I can toss the yellow back into the basket it came from. Now when I grab the bottom, I will know it's the blue lid that goes with it. This really will help. I hope it's an idea for you, too.
NOTE: I know the ink will eventually fade, but it's easy to reapply. Or you could do it with fingernail polish. N-JOY!