An easy and inexpensive craft to make for mom for Mother's Day.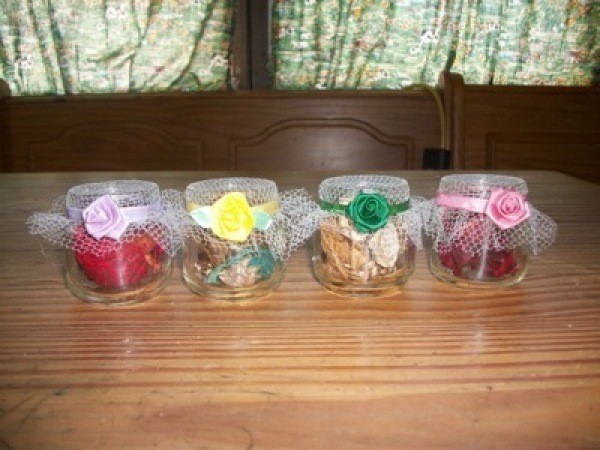 Approximate Time: 15 minutes or less
Supplies:
baby Food Jar (2.5 oz.)
tulle
rubberband
potpourri
ribbon
flower or bow
hot glue gun
hot glue
Sharpie marker
dip container lid
scissors
newspaper
Instructions:
Cover your work area with newspaper. Fill a clean baby food jar with potpourri.
Use the dip container lid as a stencil. With a Sharpie marker, trace a circle around the dip container lid on the tulle. Make sure you have newspaper underneath the tulle. Cut out the circle of tulle and put it on top of the baby food jar.
Wrap the rubberband around the top of the jar to keep the tulle in place.
Hot glue ribbon around the top of the jar to cover up the rubberband and then hot glue the flower or bow on the front.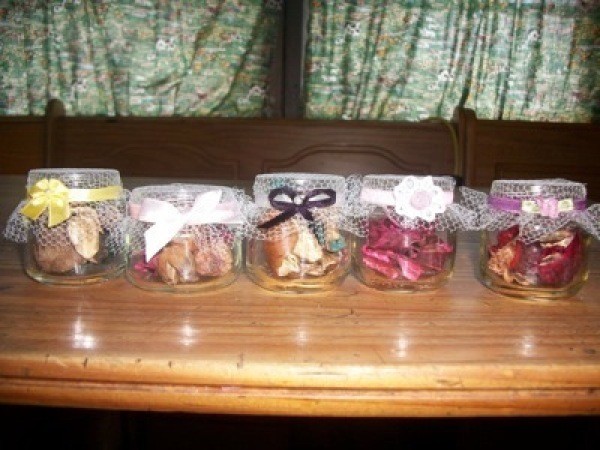 I made these as a little gift to give each woman in our church for Mother's Day. My sister gave me the baby food jars. The tulle came from wedding decorations that were going to be thrown away. I saved the rubberbands from my Sunday paper.
I made about 65 jars and only paid for the potpourri. It was $1.00 a bag at Dollar General and I used 3 bags. I had a bunch of small ribbon flowers that I bought at the Goodwill in a bag of crafting supplies. These jars cost less than 22 cents each to make.
These would make good gifts if you were having a mother/daughter dinner before Mother's Day. You could sit a jar at each table setting.
They smell wonderful. But if you have allergies like me, you might want to take an allergy pill before starting this craft if you're going to make a bunch.
By Dana Sipe from Normaville, PA
Comments

Keeper
Gold Feedback Medal for All Time! 690 Feedbacks
May 4, 2010
0

found this helpful
A nice touch using the Tulle instead of fabric like you normally see.
Thanks for sharing.

Teresa Tart
Bronze Feedback Medal for All Time! 213 Feedbacks
May 8, 2010
0

found this helpful
What is a dip container lid? Love the idea!
Editor's Note: A "dip" container lid probably is referring to a plastic dairy lid. You could get one from any creamy dairy product such as sour cream, yogurt, margarine or dips like French Onion.
Any flexible plastic lid of the right size would work.

May 10, 2010
0

found this helpful
Teresa Kay,
A dip container lid is the plastic lid on a container of dip you buy in the store. You could use a sour cream lid or cottage cheese container lid. Anything round you could use as a stencil to trace around and get a circle shape.

May 29, 2010
1

found this helpful
A friend of mine has been doing something similar to this every year for Christmas gift. The way she does hers is instead of baby food jars she uses mason jar that you use to can things in. She uses a hot glue gun, short strand of very small Christmas lights, Potpourri, ribbon, lace dolly.
Use the hot glue gun to tack the Christmas lights to the inside of the mason jar in a random pattern leaving enough wire hanging out of the top of the jar to reach an electrical plug. Pour the potpourri in the mason jar, use an ice pick or a piece of cloths hanger wire gently push the potpourri around the wire of the Christmas lights to cover the wiring, place the lace dolly over the top and tie ribbon around the top of the jar to hold the dolly in place, tie the ribbon in a bow.
When you plug it it to the outlet it warms the potpourri and puts off a very nice aroma and is very Christmas looking with its bright Christmas lights, the flickering lights really set it off nicely. When giving as a gift, tuck the cord of the Christmas lights down in the top of the jar and cover the top with the mason jar lid. Wrap in and upright box along with the lace dolly and ribbon with instructions on setting up your mason jar potpourri lamp.
Never leave the Potpourri light unattended and do not leave plugged in if you are away from home or sleeping.