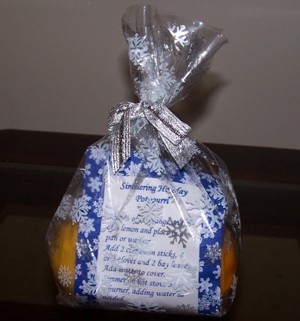 This is an easy and inexpensive small gift that is great for giving to co-workers, "Secret Pal" or teachers. It is also a great project for children to help make.
Approximate Time: 15 minutes
Supplies:
For each bag:
holiday cellophane gift or treat bag, 5x11 inches
3x4 inch clear zip lock bag or snack-size zip lock baggie
12 inch piece of half inch or 5/8 inch ribbon to coordinate with bag design
4 cinnamon sticks
4 whole bay leaves
10 whole cloves
1 lemon
1 orange
4x6 inch blank index card or half sheet of paper or cardstock
Computer and printer (optional)
Instructions:
Place the following in the small zip lock bag and seal it:
4 cinnamon sticks
10 whole cloves
4 whole bay leaves
Put one whole orange and one whole lemon and the bag of spices into the larger cellophane treat bag.
Make "instruction" cards on blank 4x6 inch index cards, card stock or paper (see photo).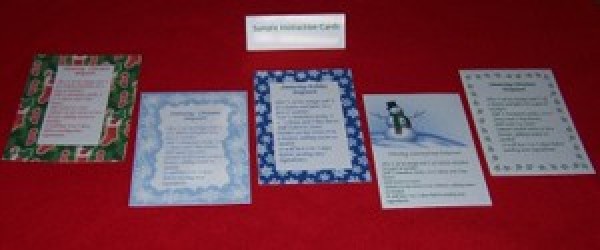 Place card in bag with fruit and spices and tie ribbon around the top of the bag.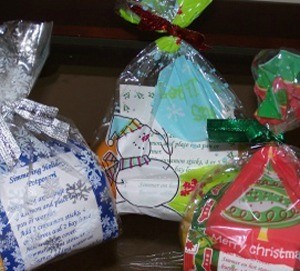 Instruction Cards:
Using clip art put a holiday border around the index card.(Children may also want to hand design the cards and write the instructions themselves or glue printed instructions in the center of the card.)
Write the following instructions in the center:
Slice half of an orange and half of a lemon and place in a pan or warmer.

Add 2 cinnamon sticks, 4 or 5 cloves and 2 bay leaves.

Add water to cover.

Simmer on hot stove or in a burner, adding water as needed.

It will last 4 to 5 days before needing new ingredients.
By Deborah from Hilliard, OH