An easy and inexpensive craft to make for mom for Mother's Day.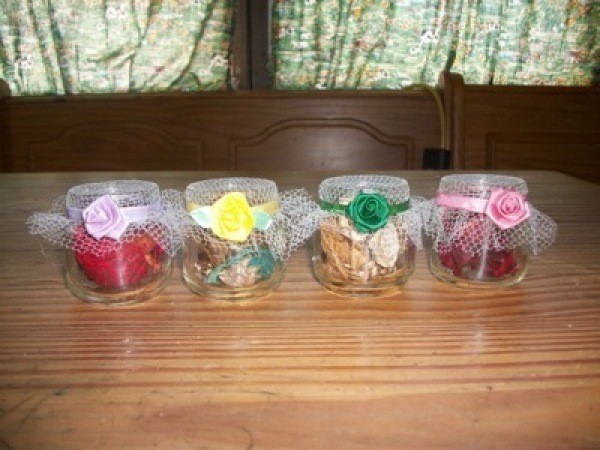 Approximate Time: 15 minutes or less
Supplies:
baby Food Jar (2.5 oz.)
tulle
rubberband
potpourri
ribbon
flower or bow
hot glue gun
hot glue
Sharpie marker
dip container lid
scissors
newspaper
Instructions:
Cover your work area with newspaper. Fill a clean baby food jar with potpourri.
Use the dip container lid as a stencil. With a Sharpie marker, trace a circle around the dip container lid on the tulle. Make sure you have newspaper underneath the tulle. Cut out the circle of tulle and put it on top of the baby food jar.
Wrap the rubberband around the top of the jar to keep the tulle in place.
Hot glue ribbon around the top of the jar to cover up the rubberband and then hot glue the flower or bow on the front.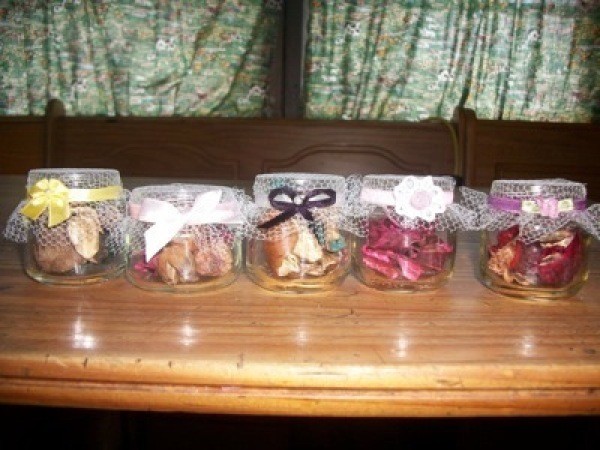 I made these as a little gift to give each woman in our church for Mother's Day. My sister gave me the baby food jars. The tulle came from wedding decorations that were going to be thrown away. I saved the rubberbands from my Sunday paper.
I made about 65 jars and only paid for the potpourri. It was $1.00 a bag at Dollar General and I used 3 bags. I had a bunch of small ribbon flowers that I bought at the Goodwill in a bag of crafting supplies. These jars cost less than 22 cents each to make.
These would make good gifts if you were having a mother/daughter dinner before Mother's Day. You could sit a jar at each table setting.
They smell wonderful. But if you have allergies like me, you might want to take an allergy pill before starting this craft if you're going to make a bunch.
By Dana Sipe from Normaville, PA