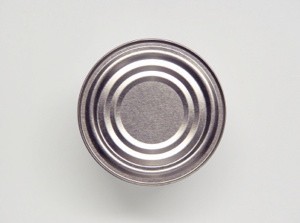 With apologies to the folks at Pampered Chef and my saleslady.
In our house, the Can Opener is King; that's just all there is to it. Now I like to think of myself as a decent housewife or at least an adequate one, but I do admit that most of my cooking skills depend on the contents of a No. 2 can.
So imagine my frustration when the most-used item in my kitchen just FROZE one day right in the middle of a frantic frenzy to get some chili in the crock pot before I went off chasing the bad guys.
Always saving things for a rainy day, I knew I had a spare or two in the drawer somewhere. I fished one out and couldn't even get the darn thing to open its lazy jaws. As the dog and several cats watched wide-eyed, thinking I was opening PET FOOD, I threw everything out of the junk drawer and found another. They all fled, deciding a meal wasn't worth a head injury.
After like 15 minutes of sawing and jabbing with that rusty relic and a paring knife, I was able to lift one chewed section of the can up enough so that I could scrape out (and smash) the kidney beans, which the more I worked, seemed to be shrinking away down into the can like live, terrified sardines. With five cans still looming over me, I abandoned dinner plans in exchange for take-out.
Now you may be aware that the cans in my life have been a source or torment, especially those off-brand things I'm always bringing home in order to save money for important things like books and craft materials. I think some of it may have to do with my extreme left-handedness. Most mechanical items are designed by right-handed engineers, you know, who figure I can just GET OVER IT. However, through the years, although I have had my share of chewed, jagged lids, I have outwitted those guys and mostly managed to keep my fingers intact.
Then miracle of miracles, one day several years ago, my husband studied me in a life and death struggle with a can of paste and said simply, "Lean your hand toward the can", and voila! The doggone thing worked!
But that was then and this is NOW....
Fresh from the showdown with the can of kidney beans, I went straight for quality and picked up a shining new can opener in the dollar store. 'Wow!' I thought, 'You really CAN get a bargain in these places!' (No pun intended).
WRONG. This one must have had it's teeth knocked out; it wouldn't even grip the can. So for the next several days, I avoided anything in a can, which naturally got me off the cooking hook! (Always mixed blessings even in a sordid tale like this one).
But my own personal Mechanic God walked in one day with TWO, lovely, stylish can openers from Pampered Chef. You know, the kind that cost something like $10 each. I WAS SAVED! He was my hero! I promptly skipped to the junk drawer and threw out the other old crones, even the new $1 one and did a little Dance of Joy. Spaghetti O's, here we come!
So imagine my ire when I grabbed a can from the cupboard the next day and tried to sock the thing on the side of the can and it revolted against me. It would absolutely not work. I turned to the trash can, now empty, realizing my last hope of dinner went with the trash men moments ago...
The next day I hurled mean accusations at the perpetrator, who nonetheless tried to enable, er, rescue me. He got the thing out and for 15 minutes we swung our fists and insults at it. (You know, it HAS been awhile since I looked at can openers and I did not attend the Pampered Chef party where the salesperson would have demonstrated it. Heck, it was just a can opener. Who knew?)
What is that quote about if something doesn't work, try something new?
My cute little husband eventually took the monster from the side of the can and slammed it on TOP of the can in the horizontal, as opposed to vertical, position. He turned the handle about 30 times and nothing happened. Sweat was beading on his forehead as steam rose above his massive head. Then he lifted the strange gadget off the can and the smooth-edged lid popped right off with it! Another miracle with new craft materials as a bonus!
So I think the moral of this one is, when you find yourself doing the same old thing over and over because this is the way you've always done it and it always worked before, maybe you're out of touch and out of date. Maybe you need turn your attitude around, get rid of those rough edges, and pop the lid off a whole new can of beans.
By Cindy from Waynesburg, PA
Editor's Note: Here are two of Cindy's can lid crafts:
Read More

Comments