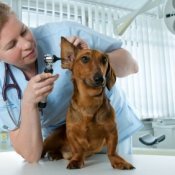 Regardless of what type of pet you've added to the family, you should plan a vet visit as soon as possible. But how do you pick the right veterinarian? You're looking for basically the same things you wanted in a family doctor.
Location
You don't want to drive fifty miles to the vet unless you have to - right? Picking a vet close to home can make a big difference in an emergency. It can also make scheduling visits and picking up prescriptions a lot easier for you if your vet is right in town.
Hours
If you work a regular nine-to-five job, you're going to need a vet that offers evening and weekend hours for those non-emergency visits. Is someone there during the off hours to answer emergency calls?
Staff
Most likely, you want a staff that is friendly and courteous, and makes you feel welcome. If you are rushed in and out without getting a chance to ask any questions - the office may just be too busy, and not really suited to taking on more patients. You should be able to ask questions and get clear explanations on procedures and care. If there are multiple vets at the practice, will you be able to choose which one you see?
Affiliations
Does the vet work with any other animal hospitals in the area? Will you be sent to a different doctor if your pet needs surgery? Will you be sent to a different doctor if you have an after-hours emergency?
If you find that after a few visits, you would prefer to find a different veterinarian, don't feel bad. It is your right to see a doctor that you feel comfortable with! But if you do switch vets, don't forget to ask for copies of all your pets' records to bring to your new vet.
And if you're not sure where to start - ask a friend with pets or a local shelter. Someone will be able to recommend a veterinarian for you!
Read More

Comments
When you are choosing a veterinarian, ask friends and family in your area if they have a vet they would recommend. It's important to find a vet that is good with both people and animals; someone who is willing to take time to answer any questions that you may have.