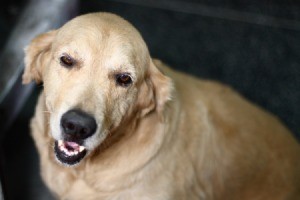 My West Highland White Terrier had white dog shaker head syndrome. They wanted to run all sorts of tests and put him on all sorts of meds. I decided to try a different approach. One by one, I eliminated different foods from his diet. I found out that, when I completely eliminated eggs from his diet, he no longer had the shaker head syndrome. He has been shaker head free for 5 years now!
By staceyann from Tucson, AZ
Read More

Comments
Looking for information about white shakerdog syndrome or tremors in small dogs. My dog has them and he is on steroids but his liver count is high because of the pills. I cannot keep him on them forever. Please help with any home remedy.
Madeline
Answers
By Kim (Guest Post)
July 7, 2005
0

found this helpful
Hi Madeline,
My sister has a female bull dog, and there really wasn't much you can do about it, she wasn't going to put her through a bunch of pills. The best advice she got was to get her out of it, give her a treat, something to kind of snap her out of it and it worked. It started out where she would have the tremors several times a day, then it slowed right down. There really isn't much info, and it seems vets don't really have a lot of explanations. Do what works, as long as she isn't in pain that is all you can ask for.
Best of Luck
Kim
By Vicki (Guest Post)
July 7, 2005
0

found this helpful
Have you consulted another vet? It sounds like you & your dog are not being taken care of. I would also consider an alternative vet: www.altvetmed.com.
By Doggy (Guest Post)
July 7, 2005
0

found this helpful
www.westieclubamerica.com/.../whiteshaker.html
Here is a web site I found that tells about the whiteshaker dog syndrome. Might contact this person to see if they can give you any ideas as to how to help your dog. Ther used something froma health food store to calm the dog. Hope you find somerhing it is hard to see them suffer.
Have a lovable terrier seems very healthy am thank ful for that had to put precious dog down for health reasons.

July 7, 2005
0

found this helpful
As my little Maltese got older, she would get the shakes which sounds like what you are describing. Feel to see if your dogs abdomen is hard. If so they are probably in pain. We'd give her 1 baby aspirin a day and it seemed to help. She was arthritic and when the pain would get bad she would get the shakes. What she had might be totally different but it's worth a try. She weighed about 10 pounds and a baby aspirin or 1/4 regular aspirin was the dose the vet told me. She lived to be 18 years old.
Susan from ThriftyFun
By Guest (Guest Post)
August 3, 2005
0

found this helpful
My little shnauzer/poodle mix (10 yrs. old) has started having tremors. Seems to happen when she is laying down. She doesn't seem to be in any pain and is alert the whole time. It reminds me of Parkinson's disease that humans get. I just pet her and speak softly to her.
By Nancy (Guest Post)
December 23, 2006
0

found this helpful
Our little (8.5 lb.) 7 year old Miniature Schnauzer has these tremors occasionally. I wrap her tightly in a large towel or small blanket and hold her while she is having the tremors. After a while, they stop and she sleeps in my arms. She comes to me when she is having a seizure and seems to want me to hold her.
By Donna Temple (Guest Post)
March 12, 2007
0

found this helpful
Hi Everybody,
I have a poodle mix that shook so bad when I first got him at about 8 weeks, he couldn't stand by himself. He grew out of most of it and now his head only shakes when he is tired or excited. He is now 4 years old. The vet I had before I moved that saw him for the first time at 8 weeks was not concerned because he grew out of it as he got older.
Today for the first time since he was a puppy he shook uncontrollably at my feet and would not obey, turned his nose up at all his favorite treats.
I took him to the vet and he wanted to run some tests and watch him for a while. He diagnosed him as having "White Shaker Dog Syndrome" and gave him Valium in decreasing amounts.
I have taken 2 valium in my life and both times I was out for days. I just can't imagine giving my 16 lb dog a valium a day even if it is only for the next 3 day and decreasing from there!
Is there anything else I can do for him besides drugging him?
Donna
By btaylor (Guest Post)
March 22, 2007
0

found this helpful
I have a white/brown shih-tzu who had been diagonsed with little white shaker syndrome. She is 15 months. With two days of treatment of steroids and valium, she isn't showing much progress.
How long does it take to show some improvement and what is her prognosis?
Read More

Answers