I have two great Styrofoam torso mannequins I want to turn into art pieces. My vision is cover them collage style with colored tissue and embellish with gems, beads, and found objects. What adhesive is best to use for tissue? What adhesives can I use for the embellishments?
Answers
March 16, 2018
1

found this helpful
Best Answer
I've not tried gluing Styrofoam, but I did just read how Styrofoam may need a special glue, one without any solvent in it, or that ingredient, the solvent, will melt the Styrofoam. It was also noted that a glue gun would melt the foam too.
They do sell glue for that is specifically for Styrofoam, which that's what I wanted to let you know, but as for gluing the tissue to the Styrofoam, that is something that hopefully will be on the label of what that particular glue, will glue.
March 16, 2018
1

found this helpful
Best Answer
The best glue for any Styrofoam is contact cement. This won't harm the Styrofoam and it will glue any object to the Styrofoam that you need.
You can also use All-purpose adhesive, Spray adhesive to glue your object to Styrofoam.
March 18, 2018
0

found this helpful
Best Answer
you can use different sorts of glues for the different elements of your project.
for the hard, solid things you can get away with using a glue gun, though it is advised you use it at low temperature with styrofoam. As well you can use something like Liquid Nails. Here is a guide to glue with styrofoam: www.wikihow.com/Glue-Styrofoam
as for the tissue and other elements, my favorite product is something called Matte Medium. www.dickblick.com/.../ it is great as a glue, dries clear, and is particularly suited for decoupage type products. It is strong enough to hold just about anything you want to in place. I've had paintings with buttons, coins, tree branches, every kind of paper, tin foil, etc all remain affixed for a long time jst with matte medium. It is a very liquid medium, though dries quickly.
Modge Podge is another good glue, very Elmer's like - rather thick, dries a bit opaque but solid. Excellent for paper too.
for the more solid bits I'd still want to use a glue gun or other thing though just for the added support.
March 21, 2018
0

found this helpful
Best Answer
There are a lot of glues that will work but it seems there are some glues especially for using with Styrofoam.
JoAnn's and Michael's craft Stores both have several glues for using on Styrofoam but most sites are recommending just plain ole white glue for gluing your tissue paper to the mannequins.
You may want a stronger glue for your embellishments. Gorilla glue or E-6000 will work on the Styrofoam/tissue but these items may get "knocked off" real easy no matter the glue.
It might be good if you were to use some type of embellishment that has a hole that you could glue and strengthen with a straight pin.
Here is a site that shows how to glue tissue to Styrofoam.
Check out this site for more information.
Answer

this Question

...
I like to use spray glue/adhesive in various arts and craft projects. But I was wondering what would be the equivalent glue in a liquid or spreadable form? Would be much cheaper and be usable in situations where you wouldn't want to spray.
By Lonnie from Chatsworth, CA
Answers
October 4, 2009
0

found this helpful
Years ago before spray adhesive I would use hairspray (the kind that comes in a can).
October 4, 2009
0

found this helpful
Mod Podge is a spreadable craft glue available at craft stores. It comes in many varieties (i.e. Mod Podge Glossy, Mod Podge Matte, Mod Podge for Paper). It is actually a decopauge glue (which creates a clear topcoat) but it can also be used to glue certain types of materials together (check the package for its compatibility). You spread it on with a foam brush, and then smooth it out with a rolling pin or brayer to eliminate any bubbles. I like it because I can stay in my house without having to go out into the yard to use spray adhesive.
October 7, 2009
0

found this helpful
I have found this website quite helpful on several occasions.
October 8, 2009
0

found this helpful
Tacky glue is great, along with every other wonderful craft glue at Aleens Tacky Glue (googled). Good luck!
Answer

this Question

...
I am placing a small amount of sand and a few sea shells in a wine bottle. What is the best adhesive to use to keep it all in place?
Answers
November 6, 2018
0

found this helpful
A good two part epoxy will be the most permanent hold. If you want something that you can correct if you make a mistake, you could try a good glue gun glue...but that won't last forever. I guess it depends on what your intent is...a one shot even decoration (glue gun) or a permanent display item (epoxy). If you use epoxy, be sure to do it in a well ventilated area. That stuff stinks (at least to me).
November 6, 2018
0

found this helpful
I would use Gorilla Glue. Make sure the variety is the one that adheres to glass.
November 9, 2018
0

found this helpful
for adherence to glass you can't beat silicone. However it is puffy and messy
epoxy or something liek Enviro Tex would be great though hard to work with
my problem is I an having trouble envisioning your project. Are you putting the sand and shells inside the bottle, or sort of on the outside/surface of it?
Answer

this Question

...
I need to adhere a glass fishbowl to a painted terra cotta pot. What glue is best and do I have to lightly sand before I glue them together? I also used some waterproof sealant to adhere glass beads to the pot, but didn't lightly sand first will that be alright? I didn't know if the sealant would be alright for attaching the glass fishbowl. I do have some E6000 on hand, but what do you suggest is best?
Answers
October 29, 2018
0

found this helpful
I would use Gorilla Glue. They have a glue that will work on glass. I don't think it is necessary to sand first
October 29, 2018
0

found this helpful
You don't say if it is for indoor or outdoor or if you are using food in it. I have no luck with e600. You can try cement adhesive but if I remember right they don't dry clear, which could be an esthethic issue depending on what you are making.
I am lazy and don't sand. Depends again on outside or inside use. Inside you should be fine. Outside they may not stay affixed.
Post back pictures!
November 5, 2018
0

found this helpful
The website thistothat.com is a really good site. There are two drop boxes. You enter what you want to glue and it will give you the answer.
Answer

this Question

...
A common question from crafters working with glass is, "What is the best glue for glass?" The answer will vary depending on what is being adhered to the glass. Different glues work better for glass on glass, but another product might be just right for attaching other embellishments.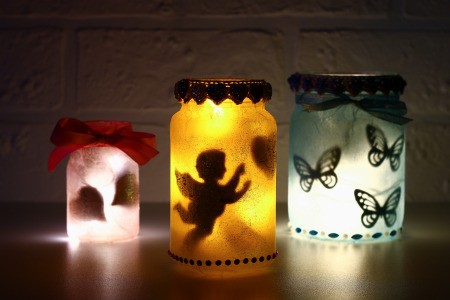 I need help in finding a glue that will adhere to fabric and a plastic milk jug, and when cured will be clear. Somewhat of a gel form, not too runny. I used something 20 years ago and it is still as strong as it was then. Now I need to make more of these and can't seem to find glue that does the same good job. Can any one help?

Your help is much appreciated.

moonbeam

Answers:
Need The Right Kind Of Glue
E6000, you can get it at Wal-Mart. It is great. (02/02/2005)

By Judi
Need The Right Kind Of Glue
I'm not sure I'm spelling this correctly, but Aleene's glue is wonderful. There are several types. The flexible fabric kind is what I use most often. Can get it at Wal-mart or Michael's ( more selection at Michael's, for about the same price). (02/02/2005)

By Barb
Need The Right Kind Of Glue
Try a product called Fabric-Tac. It can be found in most craft stores and at Walmart. (02/02/2005)

By Marilyn C.
Need The Right Kind Of Glue
There is a web site expressly to help you when you need to glue things together. You can type in the what you are trying to glue and it will give you different glue recommendations.

Hope that helps. (02/03/2005)

By Sabrina
Need The Right Kind Of Glue
I think you are looking for silicone glue. It is supposed to adhere unlike items together.
Laurie (02/10/2005)

By notetotel
Need The Right Kind Of Glue
I want to thank you all for your help. The silicone glue didn't work at all for what I used it on. I ended up finding that Elmer's and a glue called Liquid Nails worked the best. Hope this will help someone else.
Thanks again.
Moonbeam (03/17/2005)

By Adele