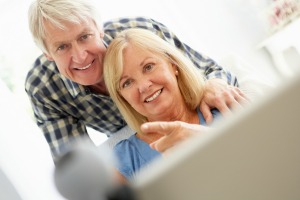 Which is the best VoIP (Voice over Internet Protocol?

Kathleen from NC

Answers

March 6, 2009
0

found this helpful
We use Vonage. I like the features it offers. If the internet goes down, it will automatically forward calls to my cell phone. You can have your voicemails sent to your email and listen from the computer. I wasn't really impressed when we got Vonage because of the background noise and different little glitches but our service has really cleaned up. We've been thinking of getting Magic Jack but the reviews on that haven't been very good. I'm hoping that they will work the bugs out of it soon. At $20 a year vs almost $30 a month, I'm thinking that I could put up with a few glitches. Good luck in your decision.

March 7, 2009
0

found this helpful
Kathleen,
Hi Kathleen, I am from NC as well.
I have been using VoIP for many years and I have done a lot of research on the topic. One consistent thing that I have read is Vonage has had a bad reputation for poor customer support and poor service.
I started VoIP with Packet 8 (http://www.packet8.net) but the calls had issues; this was a long time ago and I am sure the service has improved. They have a $199 yr plan but they charge Taxes and Regulatory Fees each month.
The next service I used was Sunrocket for $199 but they went under 1/2 way through my 2nd year. I then switched to ViaTalk (http://www.viatalk.com) for $199 yr plan but they charge Taxes and Regulatory Fees each month and seem to nickel and dime you. You only get a small window of time to cancel after the year and then they renew you (with fees). The service is good but support is bad and the fees are endless.
If you do not mind having your computer on then you can try MagicJack - http://www.magicjack.com. The have a free trial but it ends today, 3/7. I think that MagicJack is $39 for the device and 1st year then $19 each year for continued service. I had a co-worker who bought it and he loved it.
ooma (http://www.ooma.com) is free after you buy the phone. The phone is about $200 but there are no fees after that. I am considering this when my ViaTalk is over.
The other option that I am considering is Skype - $65.40 for year of calls (5.45/month which is $2.95/month for calls and $30 for a number - skype.com/.../) + $100 one time cost of wifi phone which will let you call without pc - shop.skype.com/.../
The nice things about Skype:
* No long-term contract. No connection fees.
$2.95/mo Unlimited landline and cell phone calls* to the US and Canada - any time of the day, any day of the week.
Buy a 12-month online number for $30. An online number lets people call you from a regular phone
Voicemail is included
* Unlimited landline and cell phone calls is limited to 10,000 minutes per user per month, with a maximum of 6 hours per day. Also, no more than 50 different numbers in total can be called per day; once these limits are exceeded Skype will charge normal rates ($0.021/min within US) and a connection fee ($0.039 within US) for any additional minutes used.
If you need to call overseas then www.broadvoice.com/rateplans_unlimited_world.html may be a good choice.
I have done a lot of research on VoIP and I have other information if you need; you can contact me via my ThrifyFun blog - www.myfrugallife.com/blog_rjwilcox.html
Bob

March 7, 2009
0

found this helpful
I use Skype, and have used it for a couple of years. For about $60/year I can call anyone I want to and talk and talk and not be charged for it. We actually use Skype as our home phone (we have Skype In and Skype Out). It's cheap, and effective. I have friends in other states and we can communicate via Skype. One friend uses the Skype video phone all the time because her husband is on the road a lot for his job.
The quality is fine. We merely use our computer speakers and computer microphone. I really need to get a headset just to make it easier, but I haven't.
Sometimes there is an echo, but not often, and the call quality has gotten much better.
Anyway, I'm very pleased with Skype, and will continue to use it.

lavonneann
Bronze Feedback Medal for All Time! 112 Feedbacks
March 7, 2009
0

found this helpful
I have been using Magic Jack for about a month. Have had absolutely no problems with it. The calls are very clear. If you turn off your computer as I do each night you can forward calls to another number or if you don't forward Voice mail will pick them up.
Until I got Magic Jack I had Vonage which also worked very good but Magic Jack is so much cheaper. It also has 3 way calling, caller ID though only number and not the name.
Beware of Vonage when you go to cancel as they will come up with extra charges and will not return monies for part month of use. I only used 2 days of the new month that I paid for but they said they do not prorate nor give refunds. They also said for canceling before 2 years I had to pay $46 dollars for the use of the telephone number.

March 8, 2009
0

found this helpful
Thank you all so much for your information. I appreciate the time you have taken to share your actual experiences with voip.
Answer

this Question