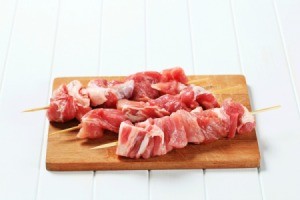 Did you know that there once was a time when chicken was expensive and veal and pork were really cheap? 'City Chicken', also known as 'Mock Chicken', became popular because of the price of chicken and since it was hard to come by in the city during the Depression. The alternative was pork or pork and veal cubes skewered, coated, fried and then baked to resemble fried chicken legs.
Maybe that's why both sets of my grandparents raised their own chickens during the 1930's and 1940's ;-) From what I've recently learned, this is still a comfort food for many so I searched for recipes, combined a few and here is what I think is probably the closest and tastiest to days gone by.
Ingredients:
2 lb. pork and/or veal tenderloin, cubed
2 eggs
bread crumbs, seasoned if preferred
all purpose flour
salt and pepper to taste
4 inch skewers
1/4 cup butter
Directions:
Preheat oven to 350 degrees F.
Thread meat cubes onto skewers.
Beat eggs in a large shallow dish. Place bread crumbs on a plate.
Combine the flour, salt, and pepper on a plate; roll skewered meat in flour mixture, then roll in the beaten eggs and then roll again in the breads crumbs.
Brown all sides of meat in butter in a large skillet until they are golden and transfer to a baking dish and bake for 45 to 60 minutes.
By Deeli from Richland, WA