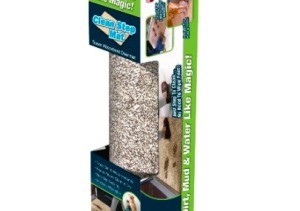 Product: Clean Step Mat
Cost: $19.99 each
After viewing this product on TV, internet and in magazines, I thought I give it a try. We have 3 large dogs and on rainy days, I would go through several dog towels wiping all of their paws.
I received a $5.00 off coupon for Bed Bath and Beyond and bought 2 of the "Clean Step Mat". It's very important that it gets washed in cold water, on a gentle cycle with no detergents or fabric softeners.
The mat doesn't look like much, but I can testify it truly does work. Next payday, I'm going back and buying two more.
Having 4 mats, I'll be able to place them next to one another which will give my dogs a little more room when they come back inside through our laundry room.
The few times my dogs walked on it, it did remove dirt and mud. I purposely led them all into the kitchen afterwards to see if there would be any paw prints. The first couple of times, there were very faint, wet, paw prints but no dirt or mud.
As the day went on and they walked across the mats more, I no longer saw any hints of a paw print.
There's a very thick rubber backing and the mat didn't slide. I was sort of skeptical and asked the cashier if she had heard from other customers whether it worked or not and she hadn't.
When it's not raining, snowing, or wet outside, I'm going to pick them up and leave them near the back door.
Apparently the company does offer larger sizes and different colors. I also have seen the product in the grocery store where I shop. It truly is remarkable to say the least.
By Pritchard C. from Madison, AL