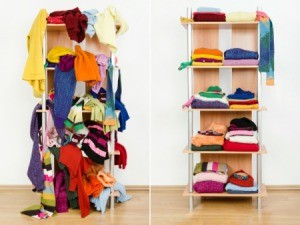 I would like to get my home organized but have trouble doing so. When I buy storage items I just get more clutter. I would like to know if anyone knows of a free website or a book that has step by step guide. Or a company, like on HGTV, where they come in and help you (For example: Mission Organization).
Thanks,
nailfanatic from Poteau, OK
Answers

December 12, 2005
0

found this helpful
Best Answer
I found this really FABULOUS website that helps to get you going on a regular routine by helping you create your own schedule, but also by giving you daily reminders and motivational testimonials. It also gives you projects to do to de-clutter your home. The entire premise of this website, and the program from which it is derived is that you can do anything in 15 minute increments. Go to http://www.flylady.net I truly love this website, and it has helped me become immeasurably more organized, and it has helped me do some massive decluttering. Signing up for this program/group is completely free. They do sell products that help you become better organized, but you are never under any obligation to buy their products.
In fact, they teach you how to assemble your own "office in a bag" and "control journal" by explaining everything you need to do to build it, what you need to include, etc. It will help you deal with what can seem so overwhelming, and you have different areas of your home to work on each week. There is no hard core hours of cleaning involved in this program, once you get a handle on things. If you are feeling overhwelmed and need some good, common sense advice, and a routine to follow so that you can keep things together, this is a great place to find that! HTH
By Michelle (Guest Post)
December 12, 2005
0

found this helpful
Check out the website at Organizedhome.com
They have great ideas. They also have a great site to get organized for Christmas - maybe next year.
organizedchristmas.com
By CP (Guest Post)
December 12, 2005
0

found this helpful
I will have to agree www.Flylady.net is the best out there! If you follow the plan you will see a huge change in your house and your life!
Good Luck!

susan
Silver Feedback Medal for All Time! 472 Feedbacks
December 12, 2005
0

found this helpful
If you watch those shows, the first thing they do is make the person go through all the stuff and purge what you don't need. You can do it yourself, even thought it may seem overwhelming at first. Just pick one drawer, cupboard, or pile and start getting rid of what you don't want or need. Do not just set it aside to clutter another corner--get rid of it. I usually get a couple of boxes to drop in all the things I don't need. As soon as it gets full, it goes to Salvation Army. Little by little, you'll make a dent in the clutter and the organization will spur you on. I find that as I go through things, I get more ruthless with what I decide that I do not need. You also have to make sure that you do not bring new things in your place to clutter it up as you clear things out.
After a while, you'll enjoy the freedom of having less to take care of and worry about. Don't allow yourself to feel overwhelmed--just start someplace, anyplace. And don't allow yourself to quit half-way through--keep going. As you finish one room and move to the next, you'll find more things that you'll realize aren't important to you that you can get rid of. You'll find that you'll appreciate the things you do have that are important and sentimental. You'll find many treasures that you forgot you had. Remember, you have to get rid of the junk before you can organize. Happy cleaning and Good Luck.
Read More

Answers