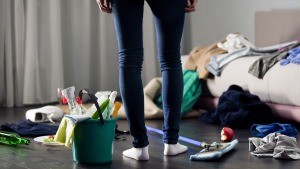 Many people are overwhelmed with the thought of organizing their home let alone one specific area. A great "workplace" organization methodology you can follow in the home is called "5S", originally employed in Japanese manufacturing plants.
Loosely translated to English, the 5S model is as follows:
Step 1 - Sort Use this step to purge your life of "stuff" you have accumulated that adds no value to your life and should either be discarded, sold or donated);
Step 2 - Straighten
Step 3 - Shine (clean)
Step 4 - Standardize You might label bins or jars that specific items are to be stored in.
Step 5 - Sustain Once you have established new standards, be sure you have a system to ensure you are reviewing and maintaining the new standards.
There are many sources of information on the internet for "5S" or maybe even in the mind of your spouse who has been involved in "5S events" at work.
Beyond 5S, simply avoid purchasing "stuff" that truly is not needed by you or your family. Start by understanding "wants" vs "needs". "Stuff" does not define us; it is the things we do and the lives we impact that defines us.
By Geoff Monastra from Cleveland, OH
Read More

Comments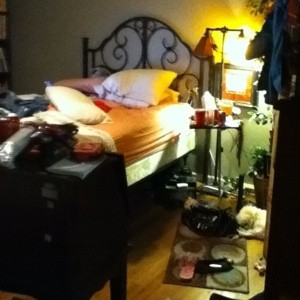 I need help! I'm a 51 year old single head of household and my life is way too disorderly at this point. I have a huge bedroom which feeds into a huge bathroom/sitting area which I have cluttered up with my sewing, tools, crafts, etc. I don't even care anymore even though I own the home and pay a mortgage. I am getting worse and worse and I have never ever lived like this.
The bedroom area shares space with an 'office' area. I think this room is reflecting what my brain must look like, a jumbled mess. I am reclusive, have many hobbies and interests, but I never indulge anymore. I need help and advice. I suffer from depression to top it all off.
By rebecca from Columbia, MO
Answers

January 29, 2011
0

found this helpful
Best Answer
Hi Rebecca,
It sounds like maybe you might be suffering from anxiety, which along with depression, can manifest in hoarding. I'm not a mental health professional, but it sounds like maybe you need some help to get your life back in order. A relative of mine suffered from something similar, and they are helping him with therapy and some meds to control his anxiety. He's now able to throw out a lot of stuff he never would have before. If you go to the Oprah website (Oprah.com) they have a lot of resources that might help. Good luck, and take care. We're all rooting for you. :) Link: www.oprah.com/home/How-to-Stop-Hoarding-Resources.

January 30, 2011
0

found this helpful
Best Answer
Try a section at a time. Vit D is helpful for depression. Take 1000mg per day. I know you can do this.
Spend just 1/2 hour per day, if that's all you can manage. Just pick a corner and start!

January 30, 2011
0

found this helpful
Best Answer
Oh How I can relate to your situation! I am 51 also and have Fibromyalgia, depression is one of the symptoms of this disease. Fibromyalgia is not life thratening, but my suggestion is please see your doctor immediately!
Whether you have FM or not, you need help with depression. Go to WEB MD and check out the symptoms of Fibromyalgia and see if you have any of them, then get to a good Dr. right away! Believe me, I have been there and with the right meds, you can get back to your old self and start doing the things you love again! Please see a Dr. ASAP and get some help.
Please feel free to contact me privately if you would like to discuss this matter further, I'd be happy to lend an ear! Bee

January 31, 2011
0

found this helpful
Best Answer
I have problems with clutter myself. I think when it is at it's worst, I am mildly depressed (depressed, but don't overtly realize it, that is). Obviously if you recognize you are depressed, this makes it worse to try and accomplish anything. The hardest part is starting. So aim for one small area at a time. I find it helpful when I don't want to sort or clean to TIME myself. I say, I will work 10 minutes on it. I use an actual ringing bell timer.
Then I am amazed and often energized by what I managed to accomplish it 10 minutes! And often want to do more.
Also, consider enlisting the help of a very trusted and non-judgmental friend to help you, if possible. The ideas from the others are all good. Hang in there and remember old expressions such as: Little strokes fell great oaks and The journey of a thousand miles begins with a single step. It's true!

Lilac
Silver Feedback Medal for All Time! 450 Feedbacks
January 31, 2011
0

found this helpful
Best Answer
Some of your depression is caused by clutter. Don't try to do it all at once. Turn on some music and do one small corner of the room. Expand slowly. Create a lovely serene living space by throwing out what you don't need.
do not try to recycle or find a home for things now. It will just overwhelm you. Start by making your bed every morning. You will be surprised how much of an incentive to clean that is.

January 31, 2011
0

found this helpful
Best Answer
I totally feel your pain. I'm 49 and have been diagnosed with depression. My grandmother died almost 3 1/2 yrs. ago and I wound up bringing so much of her stuff to my house until I was starting to look like the Hoarding shows, plus I collect dolls. I finally decided that I had to do something about it and started going through it a little at a time. It's really hard, but you have to organize and get rid of stuff that you don't use. I started doing small areas at a time, and I still have a long way to go, but I'm so proud of myself for what I've accomplished. As I said, it's hard, but after you get started and can see results, it helps you want to continue.
It may help you to begin with to sort things into office/crafts/etc., then start going through them, possibly investing in some storage items with drawers or something like that. It also helps you know where everything is. I had that problem also.
Hang in there!

February 1, 2011
0

found this helpful
Best Answer
www.flylady.net is the best way to go!! I use to be a terrible house keeper, but now my house is always 15 minutes away from greeting company. She sends you daily emails that give you instructions on what to clean "today". She declutters your life and helps you to build new habits. It is wonderful. You sound like you're ready for it. A lot of people won't do it because they are'nt "fed up" with their old style. Check it out. It doesn't cost anything.

Pixiedust7
Gold Feedback Medal for All Time! 679 Feedbacks
February 5, 2011
0

found this helpful
Best Answer
Hi Rebecca,
I have the same clutter problem, only worse. My house DOES look like the hoarder shows (which I don't watch but have seen clips).
It helps to just work on it for 15 minutes a day. If you feel like going on, you do so, but if you don't, at least you did your 15 minutes for the day.
I belong to AARP and a Group (Forum) called ATM Clutter Challenge (ATM = AARP The Magazine). There are 100s of posts there from dozens of people with this problem, and everyone is very helpful and encouraging. If you belong to AARP, you might want to join this group. One lady, who is also a TF member, has tackled her problem while dealing with house repairs and sick family members at the same time. She is always upbeat and encouraging to everyone else. Her Username is Slee15 on both sites, and over there I am Jinglebelle.
I am still taking baby steps myself, and don't always get in 15 minutes every day, but I do try. I am unemployed right now, and you'd think I have all the time in the world to work on my clutter, yet I spend many hours a day on the computer, instead.
One suggestion was to use computer time as a reward for getting something done. I agree with the person who said your depression may be related to your clutter. I have a friend with Chronic Fatigue Syndrome and his clutter depresses him. I know it's tough to do the work when you are depressed, but try the 15 minutes a day, and see if it begins to lift your mood. Use a kitchen timer and when it rings, stop - unless you really feel like continuing.
Try using shoe boxes (cardboard or plastic) for organizing some of your craft items. Install shelves or a use a bookcase to stack the boxes on. Try using furniture with storage space inside - there are ottomans, benches and chairs which have seats that lift off - store craft projects, blankets, sheets, etc. inside.
There are lots of ideas out there. Flylady is a good website, and if you Google "organizing tips" you will find 1000s of articles with 1000s of ideas. Good luck! We'd love to have you join ATM Clutter Challenge, but in any case, wish you well. Let us know how you progress.

March 12, 2011
0

found this helpful
Best Answer
Rebecca, perhaps part of your depression is that you are not indulging in your hobbies. We encourage children to try different things and watch them out grow interests. It doesn't stop because we are adults. We do outgrow some interests/hobbies and perhaps one day something else grabs our interest. It may be time to pitch the hobbies and say goodbye to that part of your life and take a deep breath and smile as you enter a new phase and a tidy room.
Answer

this Question
I have 37 years of my life packed into 2 rooms. I cannot seem to catch up because my organizational skills are lacking. I wish I could have assistance of a professional organizer, but I am afraid of emotional attachment to some of my belongings. I have gotten rid of 90% of my things at yard sales, and just tossing it out. I am very overwhelmed and do not know what to do. Can anyone help me?
By Heather M.
Answers

OliveOyl
Bronze Feedback Medal for All Time! 138 Feedbacks
June 20, 2011
0

found this helpful
Best Answer
I don't think this is what you want to hear, but if you haven't used your items in several years you will never used them. Throw them away. They are cluttering up your life. I can see having an emotional attachment to people or pets, but these are just objects. Liberate yourself from the oppression of being tied to clutter.
I used to keep lots of things in the past but I moved around a lot and I never used these precious stored items. They had to be moved, stored, etc. and took up space. I allowed myself to keep some baby items of my kids when they were born, but the rest really had to go and I don't miss them.

June 20, 2011
0

found this helpful
Best Answer
I am 71 years old and used to be the same way. I went from a three bedroom house with a good basement and a garage, to a three bedroom townhouse that had a basement, but I still had to get rid of a lot of things. Then from there I went to a two bedroom apartment and had to drastically get rid of a lot. Now I am in a different two bedroom apartment and I have got things down to a couple large totes in one corner of my bedroom and two more in a corner of the hallway by the bedrooms. It's hard, but has to be done.
Every now and then I still go through things and get rid of some stuff. I have made the rule that when one of us gets something new, be it clothing, or something for the household use, we have to get rid of a similar item. When it comes to downsizing a person can't let attachment to things get in the way, if they are really sincere about downsizing.

June 20, 2011
0

found this helpful
Best Answer
I found that plastic trash cans, the black ones, make great tables when you put something on top of them and cover it with a table cloth. I would put all your photos on an online storage system and get rid of the hard copies or store them somewhere out of sight.
One of the tricks I do to save things is to take photos of them and then I know I have a memory of them. If you feel this pressure to keep things is interfering in your life, get on an antidepressant and see if that helps, while still working on organizing things.
I live in a hundred year old house with no closets, and I have two kids and a Husband. There are no closets! When storing things, put them in airtight things, little at a time. This is so that if anything happens you will have them protected. Ask members of your family, if there are any available, and nearby, if they will store some of the things, and see how you feel about the items being out of the house.
I would never get rid of what brought me joy. I see you said you are afraid of being attached. It sounds like you don't like it. There are therapists that can help you find out what it is you really want to do and they are very helpful. I have a special needs adult child, and I can vouch for how wonderful and freeing therapy is.
Also there are ways to take things, like clothes, and turn them into other things, like pillows, or quilts if you are a crafty type person. Nutrition is one of my favorite subjects for pets and children and adults. If you were to do some research on nutrition, and how to eat right for energy you could not go wrong. We can all improve our diets.
Sometimes depression is just a matter of diet and choosing the wrong foods rather than the right ones. The best foods give you a feeling of wholesomeness and energy inside. Not hyper, but a feeling that your body is balanced. Now go fix you a nice cup of tea, and get a spiral notebook out and start keeping a journal of how you are going to spend the day and make sure you have some things in there for just relaxing!
I hope this helps!
Blessings,
Robyn

Mary
Bronze Craft Medal for All Time! 52 Crafts
June 20, 2011
0

found this helpful
Best Answer
Heather, I do agree with both other feedbacks. People have a tendency to feel attached to items but really, that is what they are. Just stuff. You will have to eventually go through your things. Keep only the things that hold a very special bond for you such as photos, which can't be replaced. Just the fact that you can't seem to get motivated, shows that these "things" just weigh you down. I too, have moved and downsized and it was one of the most liberating feelings I ever had. It may not seem that way now but I can assure you that one day it will. I find myself thinking twice now before purchasing something and like the first feedback you received, I also get rid of something I already have when I purchase something new. It is like a heavy weight off your shoulders. Until you downsize, one doesn't realize how "stuff" can actually be a burden. There are bright days ahead. Go for it!

June 21, 2011
0

found this helpful
Best Answer
Many of us have had to part with stuff, the more you do it, the easier it gets. As far as having an attachment to your things, remember this: it's not the object that holds the memory of something. It's you that holds the memory, so toss away the clutter! To make it easy: call the Salvation Army and they will pick up your bags and boxes for free, saving you the trouble of having to haul them somewhere. Make piles for the trash to be taken out (get a neighborhood kid and pay him to help do that, or get a relative or someone from church, etc). Bag up your worthwhile donations or use boxes for the household goods and let Salvation Army put them to good use. I just did that and it feels great. Yes..it gets overwhelming but take a section at a time, take breaks, and don't lose heart.

June 21, 2011
0

found this helpful
Best Answer
Correction: You have 37 years of the past packed into two rooms. Life is present. You are not emotionally attached to any "thing" in those rooms, but you are attached to the memories those things bring to mind. When you remember, the memories are in the present...they are alive and a part of you. You cannot get rid of part of yourself and your experiences which those things remind you of are already a part of you. The things have served their purpose. Keep them if you like them. Get rid of them if they serve no purpose in your life today and bring them to a resale shop so someone else can get a memory out of buying them or giving them away. Or sell them on Craigslist or Ebay.
If you have lots of paper....scan, then shred the paper.
Clutter of the past can keep you living in the past..."the good old days". There are no "good old days"...they are gone. The only good day is today and then, only if you can live it today. Don't miss it. Tomorrow is not guaranteed.
Answer

this Question