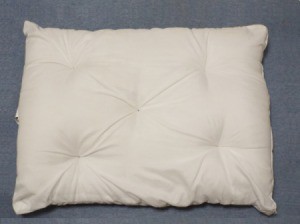 Due to allergies, I wash my pillows often. I don't buy nice pillows for this reason. I'm not so sure eider down would hold up to frequent laundering, anyway.
The pillows I buy are cheap, but serve their purpose reasonably well. I do find that the poly/Dacron filling tends to lose its shape after a while.
And after laundering they're just a misshapen ball I do battle with half the night.
Needle and cord to the rescue; with a large needle and a strong thread or cord, I put a few tufts in the pillows. This causes them to keep their shape before and after laundering. Now, I rest better. Simple. Sweet.