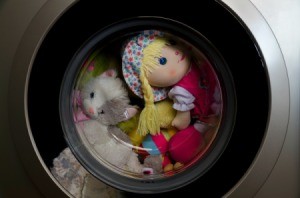 A doll restorer gave me the following tips for cleaning dolls:

Composition Dolls - never use water (it's like acid on skin). Clean with Pond's Cold Cream or Vaseline and a soft tissue.
Hard Plastic - Use mild detergent - no chlorine bleach or ammonia - and a soft cloth
Vinyl - Mild detergent - Remove ZIT makes ink stains disappear!
Hair or wigs - reattach with rubber cement (easily cleaned up). Use wig spray to bring back sheen.
By JC Miller
Comments

Hi, I'm a Bratz collector and a Barbie collector but I'm more so a Bratz collector by heart. Anyways what's been going on is that my Bratz dolls keep getting this weird dark color on them. I will admit I play with them every day and sometimes I even wash them up from time to time. I thought that my natural oils from my fingertips ( from touching them every day) might be the problem...or the clothes that they are wearing. Because the dolls that don't get played with (which is on display ) aren't as dirty as these you see in the picture. The ones in the picture get played with VERY frequently.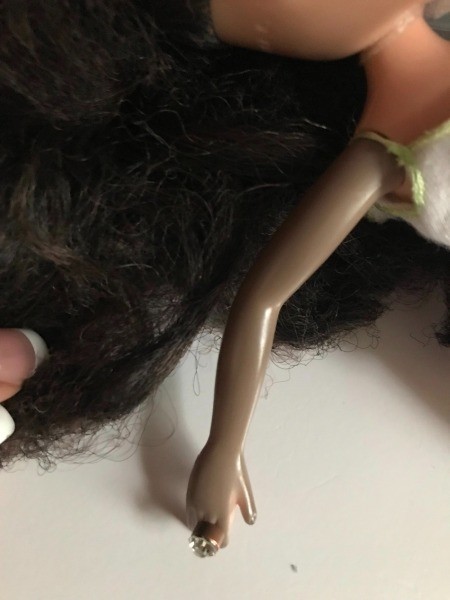 I've tried acetone, great value concentrated bleach, iso alcohol pads, makeup wipes from the dollar store. Nothing worked, this is my first time reaching out to this community so I hope you guys can help provide a solution. Also, I will note that on the other side of her arm it seems to be lighter which is strange and I also use black rubber bands to secure their heads. I was also thinking that with the black rubber band on their neck (it might be the reason for their discoloration so quickly) but I've played with that Kelly doll and she doesn't have a black rubber band around her neck. Or I even considered because they've been wet before and the wetness might be the problem. But that wasn't it either.
At this point I don't know what to do. How can I get rid of the dark spots on their rubber and prevent it? I ordered these dolls from mercari and they're old and people have had them longer than me and they weren't dark in the arms when they were brought. So there must be something I'm doing wrong. I need help maintaining them. Also, even my little sisters play with their dolls and that hasn't gotten as dirty! On another note, their noses start to turn dark then it starts with their face then moves onto their hands.. for the Barbie Kelly dolls and non-flexible Bratz dolls. And for the flexible 2010 Bratz dolls and Bratz boys (such as the one in the picture with the black arm and the one with the blue eyes), their nose and face get dark then their WHOLE arm gets dark along with the legs. So confused, please help. Any questions about them I will answer! To be clear, it takes 3 months for them to get dark.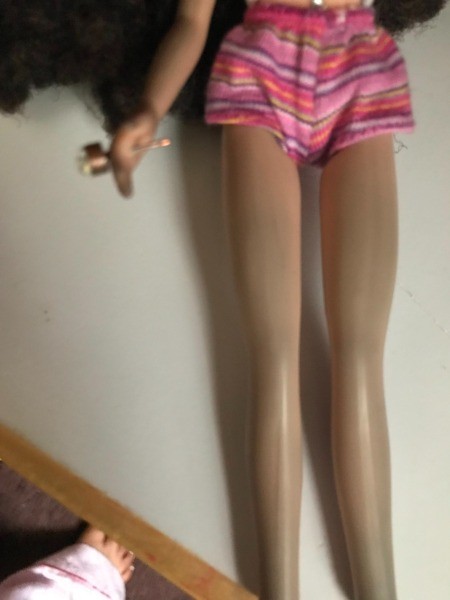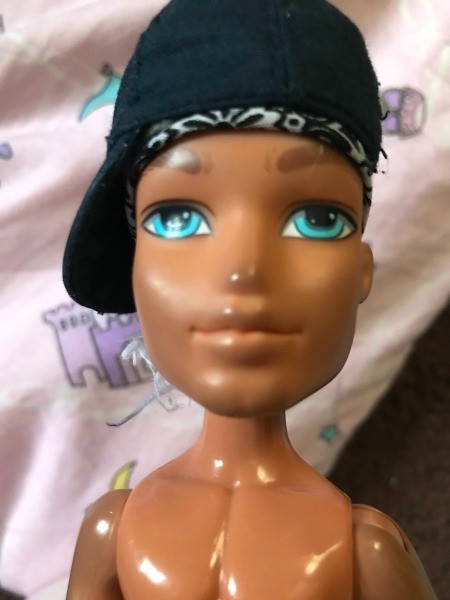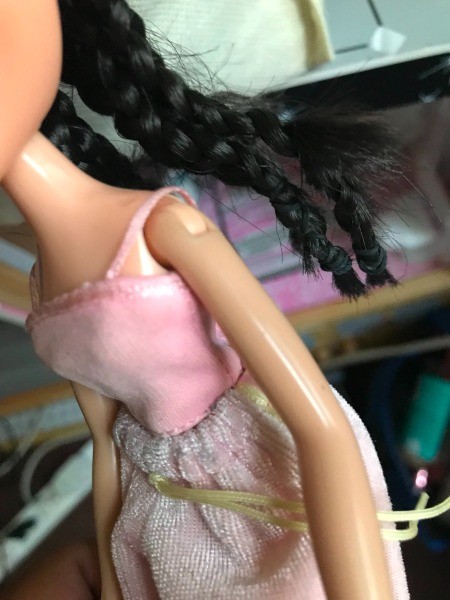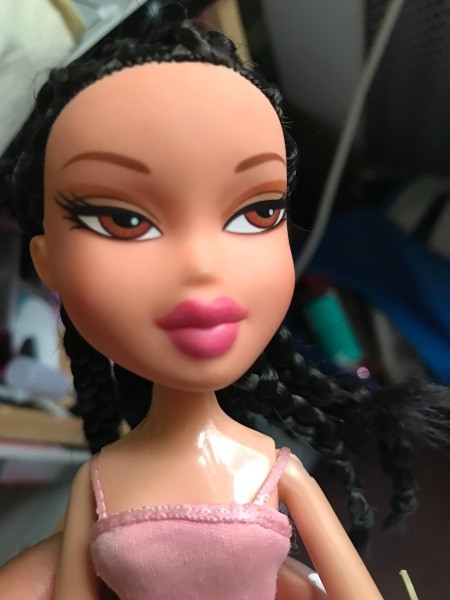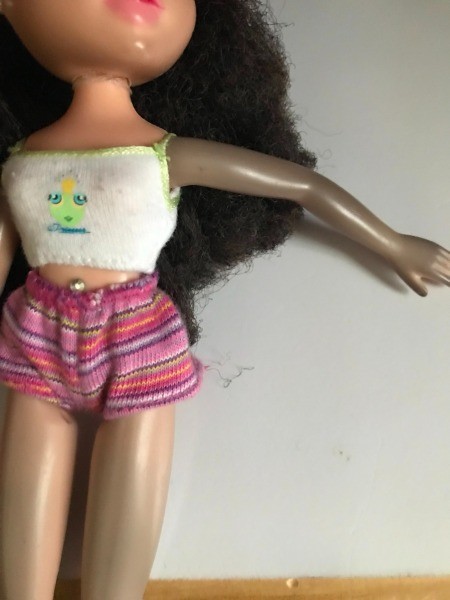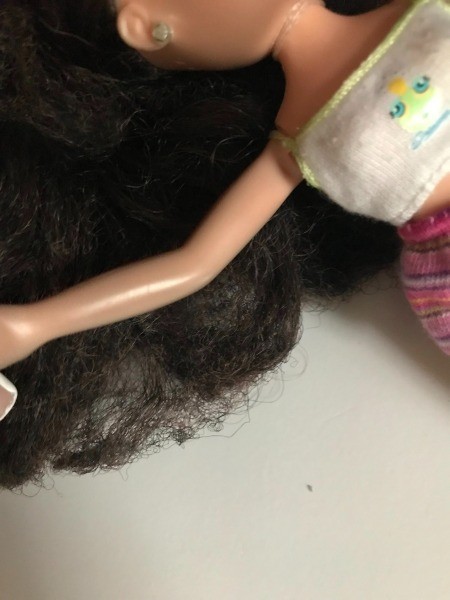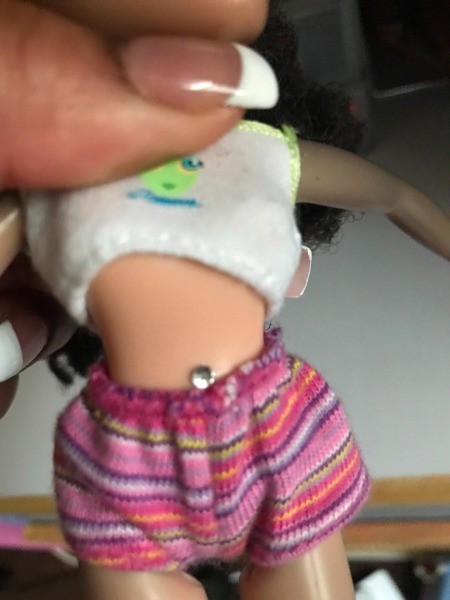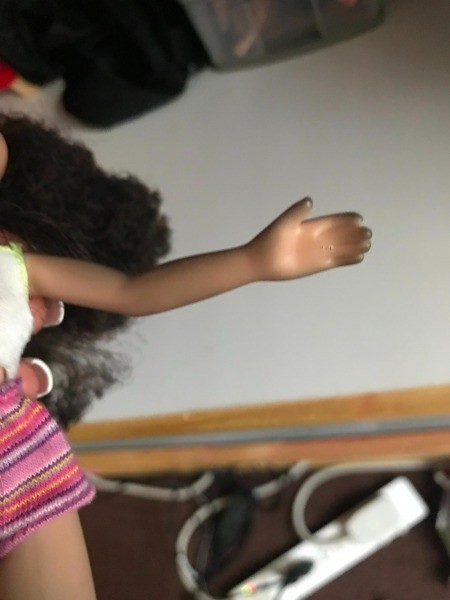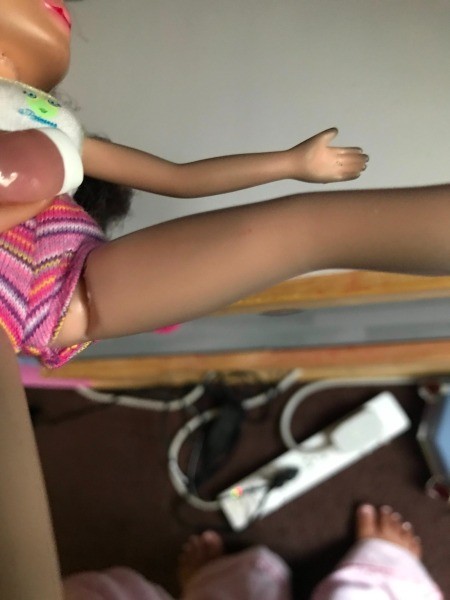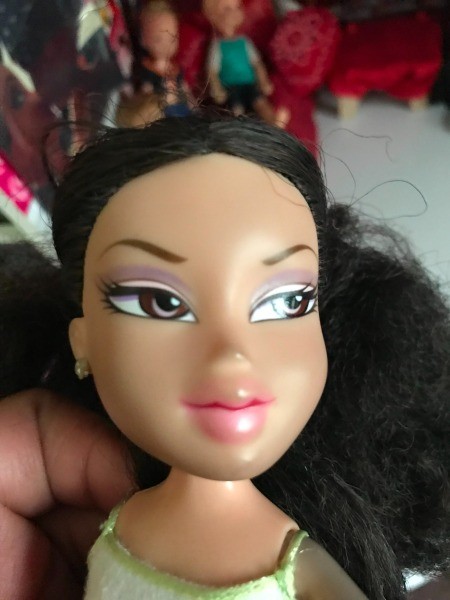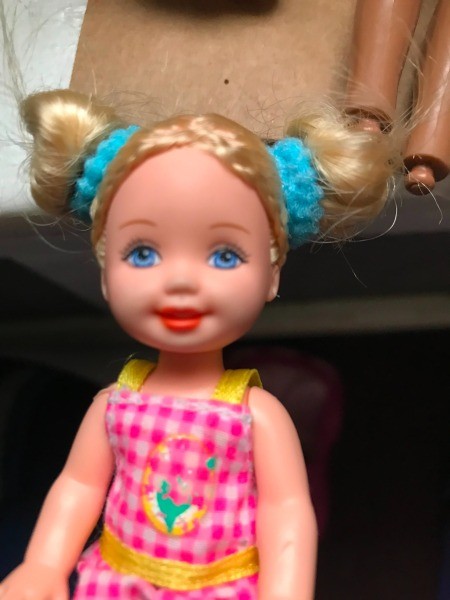 Answers

Iceskater
Silver Answer Medal for All Time! 320 Answers
October 13, 2021
1

found this helpful
Best Answer
Inexpensive plastic and vinyl change color over time as their composition (including toxic polyvinyl chloride and phthalates) degrade. UV light and high temperatures may accelerate this, but generally there is nothing you can do to reverse the process.
Some people claim success in lightening darkened areas with hydrogen peroxide, but I would be wary of applying any chemicals to plastic - especially in an enclosed area.

DianaHM
Silver Answer Medal for All Time! 440 Answers
October 14, 2021
1

found this helpful
Best Answer
Bratz dolls are made of two types of vinyl: hard vinyl for the head and body with softer, bendable vinyl for the arms and legs.
I think you have the same problem as in this question www.thriftyfun.com/What-is-This-Green-Stuff-on-My-Doll...
Sometimes vinyl parts of dolls begin to become covered with black spots or completely blackened. It is very difficult to answer the question of why this is happening. Perhaps this depends on the composition of the vinyl or how thoroughly the vinyl components were mixed before making the casting. Perhaps the reason is the dyes. Some dyes oxidize over time in air, and in these places the doll turns black.
Test the following method on one of the darkened parts of your dolls. If everything goes well, then use this method for other darkened parts of your dolls.
1. Buy a cream containing 10% benzoyl peroxide - for example OXY10. If the concentration of benzoyl peroxide in the cream is less, the process will be slower.
2. If possible, separate the darkened vinyl part.
3. Moisturize the darkened vinyl part.
4. Apply cream to all black areas.
5. Wrap the vinyl part smeared with cream in plastic wrap and put it in a warm place, for example, near a warm heater (not hot).
6. Repeat the steps 3-5 every day or every other day. Wet, spread cream, cover with a film, put in warm place. Do all this until the vinyl brightens.
You have wonderful dolls. I hope this method will help you and you get rid of this black color.
Answer

this Question

I am seeking advice for cleaning dolls (Cabbage Patch and such), as well as old stuffed animals. I recently decided to venture into my parents' attic and found bags of my old stuffed animals and dolls (about 5 Cabbage Patch dolls and 3 dolls from the very early 80s) and boy are most of them filthy.
I'm ashamed at having 2 trash bags full of these toys, but I also just can't toss them out (I apparently downsized a lot in early high school to these 2 trash bags full).
How do you go about cleaning the fabric of the Cabbage Patch dolls, as well as, stuffed toys that are upwards of 28 years old? As much as I really want the outsides to (not be so filthy) I also want to somehow "sanitize" the insides so bacteria or whatever isn't growing in there, any ideas? Would vinegar do anything for the insides? (I know it helps to get any stench out, but there's not much stench to them).
I'd also like to keep the "integrity" of the stuffed toys, meaning I don't want it matted down once I clean it. If you remember Poppels from the 80s, if you washed them in the washing machine and threw them into the dryer, their fuzzy hair became curly and matted down.
Also, (yes this is a very long question) how do you "fix" dolls' hair? The Cabbage Patch kids I assume will just take lots of detangling, but the various dolls all need new hair. I know one of my dolls is in serious need of a doll hospital (it scares me to send her off, but she's in horrible shape). With the others, is it possible to"re-hair" them myself or do they need to see a doctor as well? While we are on the subject of hair, is it possible to "defrizz" a Barbie doll's hair? She is from the early 80s as well, or are they a lost cause?
I guess I'll leave my question(s) as that. Thanks in advance for any help!
By Jane
Answers

July 23, 2010
0

found this helpful
Best Answer
I have actually washed my daughter's Cabbage Patch dolls in the washing machine, also the same with stuffed animals. I put them in a pillowcase and tie the top in a knot and wash them on gentle. It didn't hurt them at all and they came out so much cleaner.
As for the hard dolls, there are specific products you can buy to clean them, but I can't remember the names at the moment. One thing I do remember is the white soft soap does work well on dolls, I've used it before just for cleaning regular dirt. It doesn't work well for ink stains and so forth.
I don't know anything about working on their hair, but there is a website, Restoredoll that sells hair and I believe she has some information about redoing their hair there.
Hope this helps you!
Answer

this Question