I was having problems removing the hair that gets tangled in my hairbrush. I looked around for something small enough to cut through the tangled mess and found a extra pair of cuticle trimmers (the kind you get at the dollar store nail set ). I just ripped down the length of the brush and pulled out the hair. Seam rippers work great too.
By gladys hernandez from Chelsea, MA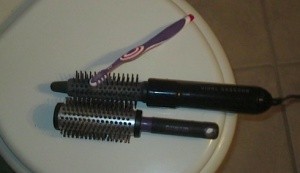 Hairspray residue and strands of hair goop up my brushes and hair brush blowers. An old used toothbrush really takes out the residue and hair really well.
By lnygaard from Billings, MT
What is the easiest/best way to clean a plastic hairbrush?
By Pat G. from Buffalo, NY
Answers
August 29, 2011
0

found this helpful
Dear Pat,
I place the brushes and combs in a jar (canning jar) or bowl, then add a heaping tablespoon of baking soda. Then I add the hottest water I can get from the tap and soak it about an hour. Then rinse and dry them on a clean towel. It works every time.
Hope it helps,
Ramona from CO
August 29, 2011
0

found this helpful
BTW: I'm not sure but I think this came from Heloise.
August 30, 2011
0

found this helpful
I just throw them in with the wash.
August 30, 2011
0

found this helpful
I use an old toothbrush & soap.
August 30, 2011
0

found this helpful
I am so lazy! I carry my hairbrushes and combs into the shower on shampoo day, and after I've lathered up I run the combs and brush through my hair-carefully to avoid tearing the hair.
Nothing cleans the hair brush and comb better than shampoo:)
August 30, 2011
0

found this helpful
Put it in a sinkful of hot soapy water.
August 30, 2011
1

found this helpful
I vacuum the hair out of my hairbrushes, then throw them in the sink with a squirt of dishwashing liquid. Swish them around and then lay them on a towel to dry.
September 5, 2011
0

found this helpful
I have one of those wide-apart brushes for extra-curly hair, so cleaning it is relatively easy. My fingers fit between the rows, so I can work through to dislodge the hair. Once I've de-haired, I get a couple of drops of shampoo on my fingers and wipe through the rows of bristles. (Actually, they're more like semi-soft plastic teeth.) The way my mom used to clean her brushes designed for finer hair was to use a comb.
She'd get the teeth of the comb under hair at the base of the bristles and work out toward the ends until she'd de-haired. Then she'd soak the brush in a sink full of hot water with a drop of shampoo in it. She'd swish the brush through the water to work up suds, then let it soak awhile. She'd rinse, then slap the brush, bristles first, into a bath towel before air drying. Hope this helps!
Answer

this Question

...