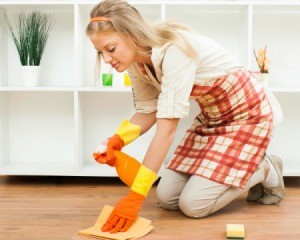 I have laminate flooring, the wider planks. My cleaning lady came in and cleaned the floor using wide strokes instead of going with the grain. It was streaked terribly.
I tried to correct it using my mop, but the floor felt like it had a buildup. By the time I stopped, the floor looked worse than when she did it. It now has what looks like scratches. We usually use Orange Glo. Any suggestions to correct this mess?
By Kathie Covington from Clinton, UT
Answers

May 5, 2010
0

found this helpful
Best Answer
I spent several hours using a steam mop to pull up the gummy reside which took forever to do a small space. I bought Out! Hard Surface Stain and Odor eliminator for pet stains. To my surprise it pulled up the residue from the Orange Glo. Spray and let it sit for a few minutes, you will see it come up. I scrubbed it right out! Larger areas done in less than a day.

July 2, 2010
0

found this helpful
Best Answer
As previously suggested, try the Lysol 4 in 1 cleaner. I used the general one, not the bathroom. Works like a charm! I suggest a warm water-vinegar mop to finish removing the residue.
It will take several moppings/scrubbings to get it back to normal.
Answer

this Question

How can I safely remove the milky film on my Bruce hardwood flooring from Orange Glo?
By Sarah from Chapin, SC

Answers
January 7, 2016
0

found this helpful
Okay on hard wood floors try using a strong mix at least 50/50 simply green and use a micro fiber cloth a little scrubbing and it comes up really well

March 24, 2016
0

found this helpful
I actually haven't had problems with `Orange Glo' except thinking it was probably time to strip and start over. While wondering how I should go about that, my schnauzilla had a wet accident, and lo n behold, the orange glo was stripped in that spot. Lol, after considering the properties of urine, the mix of ammonia and water should do the trick!
ps: If you're getting a milky look, you're applying too much , too thick. I use only an amount that I can mop quickly on a 4' to 8' square area. That is after I clean with a steam mop. The wood has a nice `glo', but is not extremely shiny like it was overly varnished. But, as with any waxy product, you occasionally have to strip and start over (especially if your schnauzilla goes wee wee and leaves a clean spot).
April 25, 2016
0

found this helpful
I got it!!! After many tries I discovered GOOF OFF. Spray or pour on, leave for about 30 seconds, rub with a towel and it pulls up all the Orange Glo junk!!!! So much easier than the many hours required with ammonia, windex, etc. Really works, finally!!!!!! GOOF OFF can be purchased at home depot, etc. Good luck :)

May 6, 2019
0

found this helpful
But, will that product take off your polyurethane finish?
Answer

this Question

I usually use Orange Glo to clean my wood floors, but apparently I mistook it for wood shiner. Now my all of my wood floors are super greasy! I tried cleaning with Dawn and vinegar, but there was not much change.
Anybody know what to do?
Answers

poehere
Bronze Post Medal for All Time! 105 Posts
February 17, 2020
0

found this helpful
Have you tried to use ammonia? Normally this works well. You need to fill a bucket with 1/2 gallon of water and 1 cup of ammonia. Then put the rag in the bucket and lay it on the floor for around 1 to 2 minutes to loosen up the orange glo.
Now take a spray bottle with a window cleaner in it that has ammonia in the cleaner and spray this one the floor. You can now buff the rest out with paper towels.

Ana
Bronze Post Medal for All Time! 140 Posts
February 18, 2020
0

found this helpful
Use any wood floor cleaner that is gentle enough to take the buildup away without damage to your floors. If not cleaner you can use dawn/ or another dish detergent can remove build up!
Answer

this Question