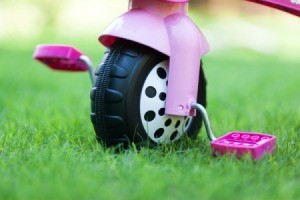 I am in the process of gathering up the childrens unused toys and outgrown clothes. I have an outside toy that my youngest does not play with anymore. I have all the pieces for it and in gently used condition, but it looks horiible from the months of being outside! I scrubbed it down with dish detergent, bleach, magic eraser and 409. It has little black spots on it that will not come off! The consignment shop will not take it looking like that, can anyone help? Thanks in advance - any and all methods will be tried!
Jen from PA
Answers

August 8, 2006
0

found this helpful
Best Answer
From how you described it, I take it the item has mold/mildew. That is what is on my resin chaise lounge that I've left outside in the weather too long. My husband pressure washed it but to no avail. I bought a product at Wal-Mart specifically for that problem but he has not tried it yet. Look in the hardware section at Wal-Mart. It has a trigger spray, I believe. I wish I could tell you whether it worked or not.
Also, we used that spray paint specifically for plastics on are older resin patio set plus a small table. We covered a table, 4 chairs and sm table for about $25 in the cost of paint and now they all look new. They had been white and we made a tan color. I don't know if you'd want to paint your toy tho.
Is the toy small enough to take somewhere and show someone who could help you?
By bbb (Guest Post)
August 8, 2006
0

found this helpful
Best Answer
Try a product called BarKeeper's Friend - you'll find it w/the Comet and Ajax. It's what I use on my outside furniture - wet it down, sprinkle it w/the BF, and it will come clean w/little or no elbow grease!
By Jen (Guest Post)
August 10, 2006
0

found this helpful
Best Answer
It's a Little Tykes Activity garden- so it is multiple colors, the main color is white- but I really don't think I can get away with painting it. I have tried pressure washing it- it help a little bit, actually I should say my Husband pressure washed it and it only took a little bit of it off. I am going to Walmart today and hopefully find Barkeepers friend and I will look in the Hardware dept.
for another type of cleaner.
My mom suggested a soft cleaner with bleach- it also help a little- actually a lot more- but there is a few places that still look quite bad ( i used a whole bottle and it looked like it was helping so i bought another one and it did not help that much).
Thank you everyone!

August 7, 2006
0

found this helpful
What is it made of ? You can try using that spray paint that is just for plastic ! I did it for an old toy box that my girls had and now it looks great !!

August 8, 2006
0

found this helpful
If the item is durable enough, you might try pressure washing it.

August 14, 2006
0

found this helpful
My youngest is 16 now but I remember I paid $50.00 for a small plastic picnic table for him. That was outside all of the time. I could not get that clean either, so I called the Fisher Price company and they told me to use the bathroom scrubbling bubbles product on it and let it set for a bit. I also used a scrub brush. It looked as good as new after that.
If you want it to look shiny spray some armor all on it and wipe dry. I use armor all on everything from vinyl purses to kitchen appliances (plastic).
Good Luck!
Answer

this Question