Cleaning Oven Racks
Solutions
Share on ThriftyFunThis page contains the following solutions. Have something to add? Please share your solution!
The best and easiest way to clean oven racks is to first lay some old newspapers inside of a trash bag. Next lay the oven racks on the papers then spray liberally with oven cleaner. I do this outside of my home. Then let them stay for several hours or overnight. Finally, rinse the racks with a water hose, dry them, and put them back into oven.
By Patricia Hamm from Lexington, NC
This is the easiest way to clean racks:
Get yourself a can of Easy Off for cold oven cleaning. Have a couple of big 55 gallon trash bags and a stack of old newspapers. This will work on oven racks and grill racks, too.
Lay out at least four layers of newspaper big enough for one rack to fit on with a four inch border. Put your rack on the papers and spray to cover the rack completely, turn rack over and spray second side. Turn up the edges and cover with four layers of paper, then put them in the big trash bag. Continue until all are done and in the bag. Fold the top of the bag over, and let them lay there.
After the time noted on the can open the bag and take out the racks. Wipe down with a ball of crumpled foil. Rinse and replace in your oven!
Source: Tried and true from the women in the family.
By Maile from Onalaska, WA
Lay a barbecue grill rack on the lawn overnight, the dew will combine with the enzymes in the grass to loosen any burned-on grease. Try it with messy oven racks, too.
For inside the oven: Put about a half inch or so of ammonia in a glass baking dish (don't use metal) and leave it in a cold oven overnight. The grease and gunk will scrub off easily. It's a lot cheaper than oven cleaner.
By Sherry
Questions
Ask a QuestionHere are the questions asked by community members. Read on to see the answers provided by the ThriftyFun community or ask a new question.
What is the best way to clean oven racks?
By Donna
Answers
March 6, 2015
0

found this helpful
Best Answer
Leave them in the oven when cleaning the oven.
Answer

this Question

...
Placing dirty oven racks in a plastic trash bag with some household ammonia is an effective method for cleaning them. This is a page about using ammonia for cleaning oven racks.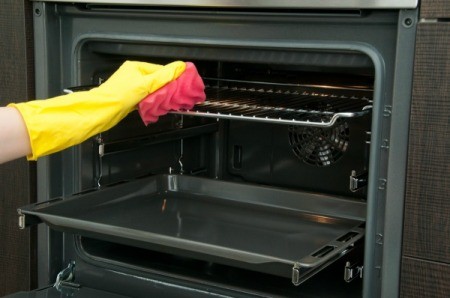 Archives
ThriftyFun is one of the longest running frugal living communities on the Internet. These are archives of older discussions.
How can I clean filthy oven racks without harsh chemicals?

Answers:
Cleaning Oven Racks
A good method of cleaning BBQ grills is to wipe them down with a sponge and ammonia. Then place the grill in a plastic bag with 1 cup of ammonia. Tightly close the bag and let set overnight. This is sure to work on an oven grill. Another is to saturate a towel with ammonia and lay it on the bottom of the [cold] oven floor. Let set overnight. Yes, it will open your sinuses in the am, but it works. (11/29/2009)
By Cajun
Cleaning Oven Racks
It takes a little work but I remove the top rack of my dishwasher and fit my oven and fridge racks in there. Oven racks sometimes takes 2 cycles with the dryer off but I have found it works very well instead of making such a mess trying to clean them in the sink. (12/02/2009)

By Tammy
Cleaning Oven Racks
Spray the racks with oven cleaner, then put in a black garbage bag (black will hold the sun's heat) and place outside for a few hours. Hose them off, good as new! (12/02/2009)

Cleaning Oven Racks
I lay ours down in the bathtub with hot soapy water all night and then IF anything is left on them the next day I take a SOS pad and finish cleaning them up. (12/02/2009)

By Paula Jo C.
How do you clean oven racks? I have a very small sink and the racks will not fit. I heard that if I clean them in the bath tub the gunk that you scrub off might clog the drain. Can anyone advise on a better way to clean oven racks?
Onesummer

Answers:
Cleaning Oven Racks
The same gunk that would supposedly clog your tub would also have clogged your kitchen sink if they had fit wouldn't they? We have a self-cleaning oven now, but my mom used to do them in the tub all the time with an old bath towel or two on the bottom so it wouldn't scratch the finish.

If you are concerned about the gunk I would scrap off any chunks you could first and/or get one of those mesh drain strainers they sell to keep the hair from going down the drain. The last one I bought was under 2 dollars. And if you were really worried about it you could do the baking soda + vinegar trick on the drain after you are done.

You could purchase a large plastic bin to soak your racks in. We used to have one outside for our BBQ grill racks. But it takes some searching to find the right size, plus it is extra cost and you then have to find somewhere to store it.
(09/09/2008)
By KL
Cleaning Oven Racks
Put oven racks inside a large plastic trashbag and spray them all over with oven cleaner (the cold oven kind). I have read that you can use ammonia instead, but I have never tried it. Close the bag up the best you can and let it set overnight. The next day take them out and just spray them off with water. I should note that I always do this outside so that I don't have to deal with the smell or mess. I have been doing this for years and will never go back to scrubbing them off. (09/09/2008)

By Joan
Cleaning Oven Racks
I've always taken mine outside in the morning, sprayed them with oven cleaner, let sit in the sun, and in early afternoon I'd just hose them right off. (09/10/2008)

By doodles
Cleaning Oven Racks
If you put the grates in a "black" plastic bag with some ammonia, and leave them overnight, everything should just wipe off. I've used this method before and haven't had any problems. (09/11/2008)