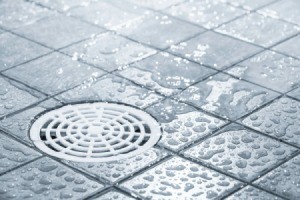 I have a nice walk in shower that my 8 year old daughter and I use. In the last few months, I've noticed the floor of the shower has gotten so dirty. I can't seem to be able to get rid of these stains. I don't even know what they are from! Can anyone give me some ideas for getting rid of these unknown stains? Thanks!
By Jaci from MO
Answers

March 16, 2011
0

found this helpful
You didn't mention what the step is made of but I starting using Dawn dish detergent and a Majic (sp) Eraser on my acrylic tub. I picked this tip from somewhere on the internet. Works like a charm to remove rust stains and stubborn bathtub rings.

March 18, 2011
0

found this helpful
I was going to suggest a magic eraser (Mr Clean makes them and there are also generic ones), and depending on what the floor is made from you could also try Borax (found in the laundry aisle) it works wonders on porcelain.

September 11, 2011
0

found this helpful
I'll tell you what I did. We have a walk in shower, hard water and I live in the south so we have a horrible time with mold. I had glass doors on it so trying to clean it was a real pain. I got rid of the doors and put up two shower curtains. If the heat or AC is running it causes the shower curtain to draw when the shower is on and you're fighting the curtain.
Two curtains stopped that. I also have double shower curtain hooks. I don't have to open snaps, the curtains just slip over the hooks. This makes it easy to slip the curtain on and off. I just slip it off and toss it in with a batch of towels when it needs cleaning. I keep a non-scratching pot scrubber in the shower. I use Dove soap so I'm left with soap residue but it isn't a problem.
When I'm finished showering. I toss the scrubber in the bottom of the shower. Rub it around with my foot and it's clean. As I get older all that crawling and reaching around in the shower to clean it is frustrating. I just don't have the energy. Plus I get all wet. It's just easier for me to clean it while I'm in there taking a shower. I'm already wet.
The bottom of my shower had gotten really grungy looking over the years. Since I started using the pot scrubber with my foot. It has come as clean as it did when we first moved in. The main reason I swished it around was to get the Dove residue up because it could cause me to slip. I was really surprised as time went by to see it coming clean.

September 30, 2014
0

found this helpful
After years of struggling with this problem I have found the magical answer - shampoo. I use Head and shoulders anti dandruff, just pour it on the floor (cover it so you cannot see any of the floor), leave overnight and when you shower tomorrow the water washes away the shampoo revealing a totally clean floor with NO scrubbing. Really dirty areas may require a second application.
Made me ask what sort of dirt I had in my hair lol.
Answer

this Question
The base of my shower looks really bad. It's supposed to be white but has a lot of ground in dirt discoloring it. Nothing I have tried has worked.
By Linda from Liverpool, UK
Answers

October 1, 2011
0

found this helpful
Try a mixture of 1 part bleach and 2 parts water. Use a stiff brush to apply and let it sit 15 minutes and then scrub!

October 3, 2011
0

found this helpful
Here in the US we have a product called CLR. I tried it and it worked even better than bleach. And it hasn't harmed the surface. We have a fiberglass shower. Good Luck.

Louise B.
Silver Feedback Medal for All Time! 337 Feedbacks
October 3, 2011
0

found this helpful
If a regular abrasive cleanser such as Ajax or Comet won't clean it, or a liquid cleaner such as Mr Clean (or whatever your standard brands would be in the UK), I would also try a product like the CLR recommended. It is an acid product for dissolving limescale and hard water deposits, which could be what you have in the bottom of the shower.
I would not use bleach at this point as bleach is for disinfecting and removing discoloration. What you have is likely built up soap scum and dirt and hard water deposit.

October 3, 2011
0

found this helpful
Try the Magic Eraser. We have a motor home with a "plastic" shower and they work great.

Dena Roberts
Bronze Feedback Medal for All Time! 102 Feedbacks
October 3, 2011
0

found this helpful
Try making a paste out of crushed denture cleaner tablets and water. Smear it on the shower floor and leave it over night, covering it with plastic wrap to keep it wet.
Scrub it off in the morning and see if that works. I know it works to take really bad stains out of toilet bowls.

October 15, 2011
1

found this helpful
I had the same problem! Tried everything and was considering having the existing shower insert removed and I was pondering about what to replace it with for ease of cleaning. I saw here, on ThriftyFun about using Fume free
Easy Off Oven Cleaner(blue cap) for cleaning showers/tubs for heavy soap scum, dirt, and hard mineral build up. I applied, let set, and used bargain brand "magic erasers" to scrub. My DH was nearly blinded by the "new" beauty of our existing shower inset. I do hope that you have access to the blue topped Fume Free Easy Off Oven Cleaner in the UK. Best Wishes!
April 9, 2017
0

found this helpful
I tried this on our tile shower floor....worked great!!!

February 12, 2019
0

found this helpful
I heard on YouTube to use toilet bowl cleaner on walls so it would prob work on floors. Put on floors and scrub
Answer

this Question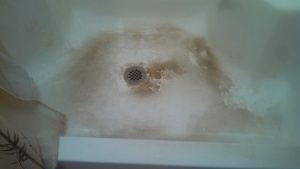 There were terrible stains on my shower flower after the construction of my home. I had done some of the work myself and had stored various things in the shower. I've scrubbed it with Comet, used a stiff brush, and used Clorox, but nothing worked. I saw where someone said to cover the floor with shampoo and cover it overnight. The stains seem to be deep into the floor which has been roughed up to keep a person from slipping. I was getting ready to use something from a RV store to paint the bottom. Any suggestions?
By Duke
Read More

Answers