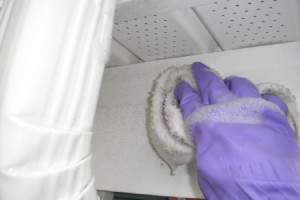 The weather has been humid and rainy for the past several days. This morning, while checking the gutter for pecan blooms, I noticed that I could wipe the mildew off the vinyl siding with my finger making it just right for cleaning and not having to wet it down. Since I already had the step ladder out, I decided to give it a try.
I filled a small bucket with hot water and put a little Dawn and Clorox in the water. I hung the bucket on the step ladder where you hang a paint bucket and went to work. The hardest part was moving the bucket and step ladder. I didn't even have to spray the siding with the hose which is good. The ground is already saturated.
Now that I've gotten that done, I'm ready to clean all the other, but I'll have to have some help to get that done.
If you can reach it, washing vinyl siding with a rag is as easy as washing the car.