We just opened a pop up camper which was closed for two seasons. It was damaged by mice and who knows what else. It looks like the canvas has pee on it and it smells terrible (sweet sickening smell).

Can the canvas and cushions be safely cleaned so my kids can use the camper again? Please advise what products we should use that would not be toxic and get rid of the odor and mess.
By Judy
Answers:
Cleaning a Pop-up Camper
Go to www.popupexplorer.com, register, and ask this question. (05/25/2010)

By Katie
Cleaning a Pop-up Camper
Sounds like the camper we just acquired. It actually came with NO canvas. I would replace the canvas. We tore out all the cupboards and flooring and the ceiling (it was wet). We patched all the holes in the floor that were visible. My husband built all new cupboards and put flooring in. We used materials we had laying around the house from previous projects. The cupboards look great. The camper also didn't have cushions for the bench/beds. We took our blow up mattress and a single mattress that we had in an extra bedroom and used that to sleep on and we all slept great!

At the end of summer, I put dryer sheets in the camper. It smells great and I was told keeps the mice away. In past campers, it sure has worked great! (05/26/2010)
By Natalie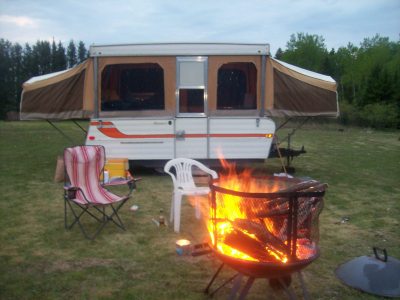 Cleaning a Pop-up Camper
That sickening sweet smell is from the mice. I went through the same thing in a camper we once owned. The first thing I did was disassemble the camper as much as you can. Vacuum every place that you can reach with a shop vac. Every surface that is safe, clean with bleach and hot water. Other places such as mattresses, cushions, carpets, and such need to be cleaned with an enzyme cleaner that you can purchase at a janitor supply store and let set in the sun for several days. Once you put everything back together use Febreze daily while allowing the camper to be open to fresh air. (05/26/2010)

By paula
Cleaning a Pop-up Camper
Just be very careful while cleaning. Wear a mask and don't let kids around. Mouse droppings and nesting can carry very serious, possibly deadly respiratory illnesses - google hantavirus. Not to scare you away, it can be cleaned and used, just do it safely! (05/28/2010)