September 7, 2010
0

found this helpful
We just opened a pop up camper which was closed for two seasons. It was damaged by mice and who knows what else. It looks like the canvas has pee on it and it smells terrible (sweet sickening smell).
Can the canvas and cushions be safely cleaned so my kids can use the camper again? Please advise what products we should use that would not be toxic and get rid of the odor and mess.

By Judy
Answers:
Cleaning a Pop-up Camper
Go to www.popupexplorer.com, register, and ask this question. (05/25/2010)

By Katie
Cleaning a Pop-up Camper
Sounds like the camper we just acquired. It actually came with NO canvas. I would replace the canvas. We tore out all the cupboards and flooring and the ceiling (it was wet). We patched all the holes in the floor that were visible. My husband built all new cupboards and put flooring in. We used materials we had laying around the house from previous projects. The cupboards look great. The camper also didn't have cushions for the bench/beds. We took our blow up mattress and a single mattress that we had in an extra bedroom and used that to sleep on and we all slept great!
At the end of summer, I put dryer sheets in the camper. It smells great and I was told keeps the mice away. In past campers, it sure has worked great! (05/26/2010)

By Natalie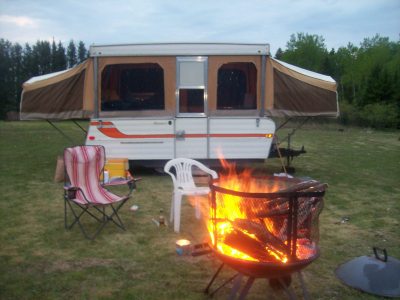 Cleaning a Pop-up Camper
That sickening sweet smell is from the mice. I went through the same thing in a camper we once owned. The first thing I did was disassemble the camper as much as you can. Vacuum every place that you can reach with a shop vac. Every surface that is safe, clean with bleach and hot water. Other places such as mattresses, cushions, carpets, and such need to be cleaned with an enzyme cleaner that you can purchase at a janitor supply store and let set in the sun for several days. Once you put everything back together use Febreze daily while allowing the camper to be open to fresh air. (05/26/2010)
By paula
Cleaning a Pop-up Camper
Just be very careful while cleaning. Wear a mask and don't let kids around. Mouse droppings and nesting can carry very serious, possibly deadly respiratory illnesses - google hantavirus. Not to scare you away, it can be cleaned and used, just do it safely! (05/28/2010)

August 17, 2009
0

found this helpful
My husband and I just bought a used pop-up camper. It's in OK shape, but needs to be cleaned badly. I wasn't sure what was safe and not safe to use on it or what I should look for to keep it clean and smelling good especially?

Chrissy from Detroit, MI

Answers:
Cleaning a Pop-up Camper
I recently bought a little camper too. To make some of the repairs I had to go to an RV dealer/store and I got a catalog with all kinds of stuff you can use for campers, including cleaning supplies specifically for the types of clean up campers often need. Just looking through the catalog gave me lots of other ideas to improve it's condition. (05/25/2007)

By Beth
Cleaning a Pop-up Camper
I work at an RV dealership and service center and cleaning them is one of my jobs. Its actually pretty easy. For the outside canvas parts I usually just get a pail of water with a little cleaner in it (Pine Sol, Mean Green, etc...) and a rag and just kinda scrub over it. You don`t want to spray it with water and cleaner if you can help it, because it may hurt the water resistant chemicals on it.
For the stubborn dark water marks, I just scrub it with a Magic Eraser. It's not really great on the eraser, but it really does a great job on the hard to get off parts. If you have mildew on the inside of the canvas you can spray some bleach water solution on it, but make sure you wipe over it a couple of times with a wet rag. You don't want to leave it just sitting on it too long, because it may damage it if just left there. On the outside we usually use a cleaner made for RV's that takes the black streaks out. You can pick that up at most any dealerships or you may be able to pick up some at an auto supply store like Auto Zone or Advance Auto. Hope this helps. (05/25/2007)

By Brenda
Cleaning a Pop-up Camper
I've had RV's for many years and the older ones can definitely have a distinct odor. I used to use Fabreze, but due to asthma I make my own and it's much cheaper. I spray all fabrics, carpet, ceilings, and walls.
This is my mix, (it's also my household cleaner):
fill a squirt bottle 1/2 full of white vinegar, good squirt of Dawn antibacterial dish washing soap, and essential oil. I put enough drops in until it gets rid of the vinegar smell, I prefer cucumber melon, it is a clean fresh scent.

It might take several applications, but I do it until all odors are gone. Also open all windows and have the pop-up fully opened. I've used simple soap and water to clean the canvas with vinegar, paying close attention to the edges and corners, which I use old toothbrushes for. Also, after you spray all of the seats it really helps if you are able to leave them outside to dry in the sun for a couple of weeks.

I usually replace all of the curtains if they are not in perfect condition, because condensation on the windows can really make for messy smelly curtains. If you have blinds I remove and clean in a hot shower with my cleaner and hang to dry on a clothes line. Or if there is mold on them you can easily clean with a simple bleach solution, but "never mix bleach and vinegar" this creates a very nasty gas that is not good to breathe.

I also found the RV Black Spot Remover to be expensive, especially when you're trying to clean-up an older RV, you can go through several bottles. I just used a simple hand degreaser and used it directly on the black greasy spots and wash afterward. Believe me when I say, wear old clothes and be prepared to get sloppy dirty wet. Hubby would always get a good laugh at me with my toothbrushes detailing the camper, because I always ended up soaked. Costco has a good carnauba carwash I like.

If you store your camper properly you shouldn't have to do this very often. Store it with pop-up open if you have a covered area to store it. Never keep it closed when wet, even if it is slightly damp. Close all curtains or blinds so that fabrics don't get sun fade, make sure they don't touch the glass. Clean the gunk out of the window at the bottom where the holes are to drain the condensation, if the water drains out then it will deter the mold issues. Open all of the cupboards and the refrigerator. Lift up cushions so that air can circulate.
I like to sprinkle baking soda on the carpet and I just vacuum it up when we start to use the RV again.
I have noticed that in older RVs that the wood sometimes is not sealed and this is just a big invitation for odors and mold. Something I now do during winter and damp weather is a dehumidifier, I really wish we had done this years ago since it would have saved me hours of cleaning.

I hope this helps you and I that you have many enjoyable camping trips. Brenda (05/26/2007)

By Brenda
Cleaning a Pop-up Camper
There is a new product on the market called Trailer Bright it can be used to clean fabric, vinyl, and the exterior of any type of RV. It will not harm the decals or painted surfaces. Their website is: www.trailerbright.com. It requires almost no scrubbing just spray it on and watch the dirt and mildew fall off. Wow. (06/10/2007)

By Mark
Cleaning a Pop-up Camper
Liquid Tide works wonders for getting that black stain off the outside of all campers. (04/06/2008)

By Pat R.
Cleaning a Pop-up Camper
Try diluted hydrogen peroxide it does wonders for all kinds of surfaces. Glass, mirrors, disinfecting bathrooms, floors, and cleaning carpets, and fabrics. It removes mold and mildew. If it is a strong mix, it can leave a white film so rinse. (05/15/2008)

By Tim
Cleaning a Pop-up Camper
Scrubbing Bubbles for Mildew. I had bought all cleaners even from the RV stores, Simply Green, Spray Nine, etc. The only thing that worked is Scrubbing Bubbles for Mildew and a brush. (05/22/2008)

By Rose