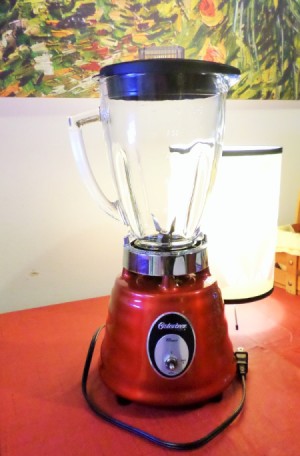 Here is a guide to cleaning and storing small kitchen appliances.

Slow Cooker:
Remove the crock from the cooker. If anything is stuck on the crock, do not use harsh cleansers or heavy duty scrubbers. Instead, fill with very hot water and allow to soak. When water cools, use first a dish brush and then a gentle scrubber or combination scrubber sponge, and dish soap. Drain, and dry with a floursack towel.
Do not submerge the cooker assembly. Use "green" (natural) kitchen cleaner on the outside and inside. Wipe dry. Don't let water or cleaner sit in the bottom. The lid can be washed like a regular dish. Reassemble all parts to store.

Blender:
Remove jar assembly from base. Immediately rinse jar assembly. Clean base with natural kitchen spray cleaner. Disassemble jar assembly and lid, if it comes apart. Wash all parts with warm soapy water. Drain. Dry parts with floursack towel. Be very careful handling the blade. Re-assemble. Put the lid on tight and store jar on the base.

Mixer:
Unplug, and remove beaters. Wash beaters like silverware. Clean mixer with natural kitchen spray cleaner. Store beaters with kitchen utensils to save space.

Microwave:
Boil a bowl of water inside microwave to make some steam, just a few minutes. Remove bowl carefully (it's hot). Remove platform. Wipe down inside of microwave with sponge. When the water in the bowl cools enough, add dish soap and use this soapy water to continue the wipe down. If anything is still stuck on, use a gentle (not heavy duty) scrubber sponge. Wipe with clean water to rinse, then dry with paper towel. Clean platform with warm soapy water.

Nonstick Cookware:
Always use plastic or wooden utensils on non-stick cookware. Do not wash non-stick cookware in the dishwasher. Wipe down with warm soapy water. If needed, a gentle scrubber sponge can be used. Metal or glass lids can be washed like dishes.