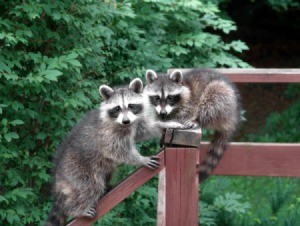 I am a licensed wildlife rehabilitator and specialize in orphaned raccoons. I understand the frustration that occurs when raccoons (and squirrels) invade garbage cans and bird feeders. Raccoons are incredibly intelligent, and very dextrous with their little paws. I would like to impart a few ideas that may help you coexist with these marvelous little bandits. However, as you know, nothing is foolproof.
Securing the garbage can lid with a bungee cord can work wonders. I have never had a raccoon get into my can, and I live in a very wooded area. I also tuck a few unused fabric softener sheets in the can, since the sheets help mask the odor of food. The stronger smelling the sheets, the better.
Raccoons (and squirrels) do love bird seed, especially sunflower seeds. My bird feeders are on a tall pole and have a long piece of stove pipe secured under the feeder platform. Just make sure that the feeder is far enough away from trees, porches, etc. that a raccoon or squirrel cannot climb or jump to the feeder. I also only put out enough food each morning to last the birds throughout the day. That way if a raccoon or squirrel does get to the feeder, you are not losing as much food.
I discourage people from using the cayenne pepper type repellents, since the pepper gets onto the paws and can get into the eyes.
If you have planted annuals and perennials and come out the next morning to find them dug up, it is probably raccoons. However, skunks and opossums do also dig in the fresh dirt. They are looking for worms and grubs in the newly dug soil. I just try to make sure and check my new plantings early in the day, and tuck the plants back into their holes. I don't think I have ever lost a plant because the raccoons have "helped me", but I still do a bit of grumbling under my breath.
One more thing; please, please, do not live trap raccoons and "relocate" them. If the raccoon is a female, her babies will be left without a mother and cannot survive in the wild. My raccoons are not ready for release until they are around 22 weeks old. I receive quite a few raccoons that probably have had their mothers moved to another area. If they are orphaned in the wild, they are left to a horrible fate, even though they may look large enough to be on their own. The lucky ones manage to make it to a rehabilitator to receive a second chance.
It is not unusual to see nocturnal animals during daytime hours, when they are pregnant and nursing their young. They do prefer to be out at night, however, they are hungrier during these times and need to forage more. The possibility that an animal is ill is always a concern and humans should never approach a wild animal. However, seeing a nocturnal animal in the daytime can just be the animal foraging.
As we are invading more and more species habitats, there are more instances of wildlife and humans having a hard time living together. We just need to be the smarter species and try to find ways to coexist.
By Lilly M from NW MI
Comments

August 26, 2011
1

found this helpful
Top Comment
I agree with everyone else, thank you for this article. When I was a little girl we had a pet raccoon that raised a litter of baby skunks my dad brought home one day, then again when I was a teenager I had another raccoon that that I had for about 2-3 years.
Tasha grew up to weigh around 45 lbs and was a wonderful pet. She came and went out the door like my dog and cat did. Today as an adult I have a family of mom and 4-5 babies that come up on my front porch every night and eat dog food. I just leave them alone and let them eat. That's all they bother and it is late enough at night that I don't feel in any danger of getting bitten. They are wonderful creatures.
Read More

Comments