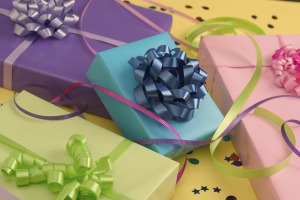 I know lots of people don't have the money for gifts this time of year. What I do is subscribe to several freebies newsletters. You can get a lot of goodies for free from companies. Another thing I do is go to company websites, and look for promotions. You can get a lot of goodies for free there too.
Sometimes you may have to send proof of purchases for some things. I look all year long, and put things back all year so that when Christmas comes, my five little ones get lots of goodies.
For adults, you could take a basket (I always seem to have several from gifts or flowers) as I receive free samples of things like shampoos and lotions, I put them in the basket, when I'm ready to give it, I just add a nice tea candle and a matching ribbon.
Using this method, my daughter is receiving a Little Mermaid blanket and Princess CD (Thanks to Kelloggs promotions) and my oldest kids are all getting Talking Alarm Clocks (Thanks to Poptarts promotions).
Read More

Comments