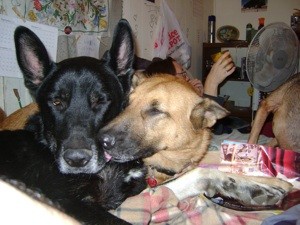 I have noticed when I ask my dogs, I have 4, if they want a treat, they usually shake their heads really fast. I have wondered if anyone else out there has noticed their animals doing this in this way, or is it just our dogs? It is always when they want to go outside or get a treat or if they have been good when they answer my questions this way. It is really funny. Does anyone else have any experiences with animal communication?
Robyn from Tennessee
Answers
By Jan (Guest Post)
February 5, 2009
0

found this helpful
We had a black cocker mix, that could get what ever she wanted. She could read us like a book. You could ask her if she wanted to go along and she would run to the garage. If she wanted to go out, she would stare at you until you looked at her and asked what she wanted. She would go to the door. If you asked her if she wanted a treat she would start barking until you gave her one.
She knew all the chore routes on the farm and if you headed for the shed where the John Deere gator was she was the first one on the seat. She was the smartest dog we ever had, she was 13 and she got a tumor in her nose and we had to put her down in Sept.We still miss her.She was every ones friend.
February 5, 2009
0

found this helpful
I had a poodle once that all you had to do, even if she was asleep, is ask, "Do you want a treat?" and she would go nuts ;-) She would run straight for the kitchen and then dance on her hind legs til you gave it to her :-)
My kitty, Rachel, gets all excited when I ask if she's ready for din din and runs for the kitchen, too :-)
I think our animals just get used to a certain phrase/command from the tone of our voice and know what we mean because of repeated association :-)
I'll bet you get huge smiles from your babies shaking their heads when you ask them :-) So cute !!!
By IdaGirl (Guest Post)
February 5, 2009
0

found this helpful
My Black Lab knows the word "treat" and runs & sits in front of the treat jar. She knows when it's breakfast and dinner time and will remind me if I'm not paying attention. If she wants something, she will look at me, look at the toy, look outside, whatever it may be, then look at me again, repeat. Pretty funny to watch. They absolutely learn certain words (walk, treat, nite-nite, etc.) and the tone of voice.
February 5, 2009
0

found this helpful
Awwww, your babies are so cute all snuggled up together! Both of my kitties get all excited when I ask if they want to get pretty-the Tabby starts meowing excitedly, waiting for his turn to brush himself, and his little plump British Blue sister squeaks excitedly and flops over onto the ground in anticipation.
By Tonia (Guest Post)
February 6, 2009
0

found this helpful
My cat Max will scratch at the door when he wants out and when he wants in. If he is hungry he will circle my legs and meow at me. And last night there was a pillow where he usually sleeps and he sat beside it and made a huffing noise (the whole time staring at me) until I moved the pillow. He immediately laid down and went to sleep. Animals communicate if you pay attention. I'm glad you do and your picture is so adorable, your dogs are beautiful and lucky to have someone like you who listens to them!
By Carol in PA (Guest Post)
February 6, 2009
0

found this helpful
I have always believed animals should be treated with respect. I have always been interested in communication with my pets. I have mostly had cats, but once owned a golden retriever.
My 14 yr old cat and I communicate very well. She understands almost all of what I say. She knows at least 100 words. My son and I have to spell words at times. The other day I was talking to my son about whether or not he felt the sun was going to come out that day. She went to the French door and looked up at the sky. (rofl) I believe she knows what the sun is because I talk to her about it and whether or not it is shining on the deck. But I didnt know she understood it was in the sky. (rofl) I sometimes say, "look the sun is shining on Kitty's blanket." But that is inside the house. She is a pill!
I believe animals communicate with each other by posturing and therefore use body language to communicate with us as well. So its important to "listen" to how they use their bodies when they "talk" to you. That said, my son who is an adult, claims to recognize different meows my cat uses. She has some that are one syllable and others that are two syllables. He claims there are like 10 different ones. Two "words" that she uses a lot are "tuna" and "mommy."
I have read that a cat has the mentality of a two year old. I believe my cat to be smarter than most two year olds, but of course she is an adult cat. (lol) If you think about it, toddlers are pretty smart.
I hope you dont consider me too much of a kook, but your question made me realize that I might not be the only person who communicates with her animal.
February 6, 2009
0

found this helpful
Our pets are so wonderful! I have a 12 year old cockatiel and he does communicate with me. When I get something to eat, he says "give me a bite". He will go stand by the kitchen faucet and say "give me a drink". Of course, he always says "give me a kiss". His vocabulary is very good. He knows just about everything I say to him. It is surprising how much they can learn. Enjoy your pets.
February 6, 2009
0

found this helpful
Thank God, I thought it was just me! My cats follow me like my shadow. I can tell them that I'm going into the bedroom to fold clothes and they get there before I do. I can also call them to me if I make meowing sounds. They get very close to my face when I do that. It's entertaining as well as a bit mysterious. I mean, what am I saying to them exactly?
Read More

Answers