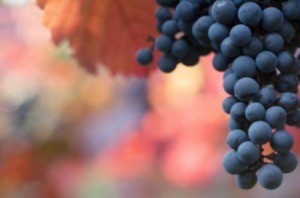 Question:
I am only a beginner and know very little about what I am doing. I have some flowers (petunias, verbena, and something else I can't identify) and a cherry tomato plant. My neighbor has a grape vine and a lot of the grapes have fallen off and gone bad. Can it help or hinder if I recycle them as compost for my garden by placing them on top of the soil?
Hardiness Zone: 10b
Thank you,
Brigitte from Israel
Answer:
Hi Brigitte,
Here is some more input on your questions regarding composting grapes by adding them directly on top of your garden soil. First of all, grape's skins, pulp and seeds make wonderful compost. Several vineyards here in the U.S. compost their winery waste (or pumice), because it makes a great soil amendment by adding valuable organic nutrients to the soil as well as improving its texture. It's okay to add the grapes directly to your garden, but you'll want to turn them under so they mix in well with the soil. This should also be done at least two months prior to planting anything in your garden. This is because the fungi, bacteria and soil microbes responsible for breaking down the compost will also attack the roots of any seedlings the compost happens to come into contact with while it's breaking the waste down. You might find it more convenient just to set aside about a 3 ft. by 3 ft. area in the corner of the garden to start your pile. Here are some answers to your additional questions.
Can any paper which is not glossy or coloured can be used? Can I throw in my kids old drawings? How about newspaper that was mentioned above, do I need to ascertain that there are no coloured ads? Any paper without a waxy coating can be composted. High gloss papers like those from magazines contain additional chemicals and dyes and should be avoided if possible. I wouldn't worry to much about colored newsprint ads. Most newspapers are now printed using biodegradable soy-based inks-including the colored ads. At least that's the story here in the U.S. You might want to check with your local newspaper publisher if you have concerns about it.
If I pluck weeds and let them dry out, can I assume the seeds also die? How can I tell if they have seeds or not, so that I can use them? Some weeds reproduce by root rhizomes, other by runners and still others by seeds. You can never assume that the seeds (or weeds) will be made unviable by drying them out or even composting them, although a "hot" compost pile will usually reach high enough temperatures to take care of any seeds. Avoid composting any weed seeds that are obvious (I wouldn't worry about removing any grape seeds), and be prepared to pluck out a few "compost weeds" now and then.
Why do you keep the compost in the fridge? I would like to start, but I would not have room for it. Some people find that it works well to keep a small bucket of kitchen waste in the refrigerator instead of running the waste out to the compost pile every evening. The refrigerator slows down the decomposition process and reduces potential odors until the container fills up and is transferred to the outdoor pile. There are also small kitchen-sized composters designed especially to fit into your refrigerator or sit on your kitchen counter. These are useful for composting small amounts of waste or making compost tea to use for houseplants.
Does everything need to be crushed? I have carrot peels; do they need to be small? Do I have to crush the eggshells? Technically speaking, nothing has to be crushed or broken down before adding it to the pile, but you'll find that reducing waste to smaller- sized pieces will speed up the composting process. Carrot peels are small enough. Eggshells do not have to be crushed. Large-sized yard debris (thick sticks or branches) and plant material (e.g. sunflower stalks) can be broken down into 2-3 inch pieces or shredded for faster composting. All organic waste will break down eventually, whether you reduce its size or not.
Do cooked produce (e.g. my kids leftover veggies or moldy bread or egg shells from hard boiled eggs) work too? Absolutely!
How about milk products? It's generally best to avoid composting animal products (meat, fish, poultry, fat, bones, eggs, and dairy). They tend to smell and attract unwanted visitors and even disease. Also avoid vegetable oils. Do not compost plastics or synthetic fibers.
Is covering it important? We don't drink filtered coffee, should I use leaves instead? It isn't always necessary to cover your compost pile, but it's helpful to prevent too much moisture from getting into the pile; it discourages animal scavengers and it traps in heat, which speeds up the composting process. Leaves, coffee and coffee grounds can all be added to your compost pile. Everything will break down eventually. A mixture containing 50-70% browns (leaves, hay and other dry matter), 30-50% greens (grass, garbage, manure) and 0-5% black (dirt or old compost) plus a little bit of moisture to make things damp (and air) is a good balance of materials for producing compost and will produce the fastest results.
How long do I leave it? How do I know that it is ready? You can tell your compost is ready when it's hard to distinguish individual waste ingredients. It will probably look a lot like dirt and smell "sweet and earthy." Depending on your mix of materials and the weather, expect to see fresh compost in anywhere from 3-6 months.
Read More

Comments

I'm a master composter, trained by Denver Recycles. Our Community Garden here in Salida has been approached by a local who makes his own wine. Next year, he expects to generate 400 gallons of grape waste: skins, stems and seeds, and wants to compost it for our use. We're trying to prepare for the onslaught, planning to collect grass clippings and autumn leaves and many varieties of manure so that we can make a decent pile when the time comes.
How can we estimate the C:N ration of the grape waste? And what about PH? I've made many successful compost piles, but 400 gallons of grape waste is a new animal to me!
Hardiness Zone: 5b
Trish from Salida, CO
Answers
By AuntyC (Guest Post)
March 1, 2009
0

found this helpful
Correct me if I'm mistaken, but isn't balsamic vinegar made from the grape sludge? And isn't balsamic vinegar VERY expensive? I'd look into making the grape waste into something salable. PS. You can send me the first bottle if this works out.

susan
Silver Feedback Medal for All Time! 472 Feedbacks
March 1, 2009
0

found this helpful
If you can't get enough, why don't you plan to cold compost the grape waste in a separate pile? It may take longer to break down, but will be an easy way to take care of the overload. You can use the compost directly or, if you like, you can add the composted grape waste in layers with your regular compost pile at a later time to mix nutrients. Does your town mulch tree branches? If so, it may be a good source to add to your mixture too. I personally wouldn't worry too much about the C:N ratio. Nothing in real-life is ideal. I'd just make the compost and amend it later if need be.
By mklema92658 (Guest Post)
March 1, 2009
0

found this helpful
Try talking to the wineries in Napa,Ca. or elsewhere to see who takes their waste and how its handled. Maybe they can be emailed? Good Luck!
By Nance (Guest Post)
March 2, 2009
0

found this helpful
I had Master Composter training, too (E. SF. Bay Area) but wonder if the winery knows how valuable the discards are? The grape seeds might be used to make oil, and grape skins have a chemical/property that repels Canadian geese. Maybe you could find an after-market for your waste instead of composting it.

March 2, 2009
0

found this helpful
You might also consider seeing if you can make some compost tumblers for some of the waste. www.instructables.com has some tutorials for using the plastic drums you can usually get very inexpensively locally, then you need some wood and some piping--all which (if you couldn't scavenge,) you could easily get from the local home center.
You might try doing this with some of the gardeners in the area; and let everyone try their own "recipe" in the tumbler, and see whose turns out best. You could do a workshop on making the tumblers and then divide out the grape waste among them.
Cold composting also sounds good. Maybe, since this is the first (of hopefully many) opportunities for this waste, trying several methods experimentally and seeing which is the most efficient and workable is the best thing!
What an interesting opportunity!

July 1, 2010
0

found this helpful
I know that this is an old post, but I just want to inform people that grapes are toxic and potentially lethal to dogs. Here is a link to some additional info> dog-care.suite101.com/.../danger_of_grapes_raisins_in_dogs

September 27, 2017
0

found this helpful
Adding grape skins can also raise the PH of your soil if I'm not mistaken, which will make nutrients more available but may take nutrients away as well?

September 27, 2017
0

found this helpful
I am in the Paso area and am a viticulture manager, not many people around here use the grape skins as compost because the soil is slightly acidic in most places. However it all depends on the structure of your soil and what you're trying to get out of your plants, most wineries here simply let the squirrels eat them.
Answer

this Question