April 28, 2009
0

found this helpful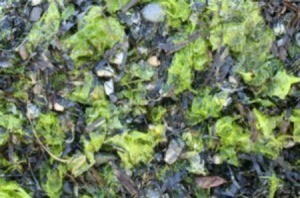 I do not know much about composting. I am a scuba diving instructor who lives in the Philippines. Each summer we get a lot of green algae (sea weed) wash up on our beach here and it is unsightly to our customers.

The local people who are paid to clean up the beach. They clean it the way they have always done by digging a hole and burying it. I am looking for a way in which they can use it to their benefit, and I have heard a lot about composting it.
I was hoping someone could help me, so I can show them what to do with it. So that it can to be used, to either sell it or use it themselves. This way they will remove it from the beach instead of burying it and possibly make some badly needed extra income through the low season. Any information would be appreciated.
Thanks,
Jamie
Answers
April 28, 2009
0

found this helpful
How to Make Quick and Easy Seaweed Compost
Any gardener is well-aware of the benefits of compost and the many ways it can enhance the gardening experience. Countless articles (online and otherwise) attest to its benefits and the ways to make it out of ordinary, home-found, organic materials. Indeed, the current rage of "Green Living" has lead to a virtual explosion of garden and yard composting interest, fueled, additionally by local cities and governments promotions of the concept through instructional materials and, in many cases, by providing consumers with composters at no charge.
Extracts from seaweed have long been proven to accelerate the health and growth of plants by stimulating soil microbial activity, enhancing photosynthesis, improving cold-tolerance and thwarting insect damage. Seaweed, having more than 60 different nutrients, by its nature, decomposes far quicker than grass clippings, leaves, vegetable cuttings and the like, most of which require shredding to increase decomposition. Seaweed requires nothing, thus simplifying and accelerating the composting process. End result: better compost with less time to make it.search for" Composting Seaweed" lot of info there,good luck.
April 29, 2009
0

found this helpful
Try contacting the companies that sell dried seaweed at health food stores.
May 1, 2009
0

found this helpful
Here is a website for DIY Sea Weed Composting.
How to Make Quick and Easy Seaweed Compost | eHow.comHow to Make Quick and Easy Seaweed Compost. Any gardener is well-aware of the benefits of compost and the many ways it can enhance the gardening experience.
www.ehow.com/how_2284434_quick-easy-seaweed-compost.html - 60k - Cached - Similar pages -
Composting SeaweedComposting Seaweed. Can I use seaweed for composting? The ThriftyFun community gives advice to coastal dwellers. Post your own tips here.
www.thriftyfun.com/tf438007.tip.html - 38k - Cached - Similar pages -
Can I put seaweed in my compost? - Yahoo! AnswersYou'll need to rinse it well first, to wash away as much salt as possible, and then either mix or layer the seaweed into your compost heap to help ...
answers.yahoo.com/question/index?qid=20070508140552AA8kKVF - 54k - Cached - Similar pages -
Seaweed Compost as an Amendment for Horticultural Soils in ...Seaweed Compost as an Amendment for Horticultural Soils in Patagonia, Argentina ... find Compost Science & Utilization articles. Seaweed (fresh, dry) or its ...
www.highbeam.com/doc/1P3-1515732151.html - 60k - Cached - Similar pages -
From Stillwater: Seaweed and Fish Fertilizer RecipesFeb 18, 2009 ... Seaweed contains insufficient nitrogen for making a good compost, ... The following guides may be used for making seaweed compost: 600 lbs. ...
stillwoods.blogspot.com/2009/02/seaweed-and-fish-fertilizer-
May 2, 2009
0

found this helpful
There are companies that harvest the seaweed. Find out what type it is, and then find a company that uses it. Good luck
Answer

this Question

...
February 23, 2006
0

found this helpful
Q:
I am employed by a local Maritime Council and our coastline has recently been hit by large deposits of Kelp like seaweed, getting on for nearly 2000 cubic meters. Can anyone explain to me the benefits that seaweed may have for local farmers if we are able to deliver it to them?
Steve, Dorset, UK
A: Steve,
There are many agricultural and garden applications for seaweed. It aids in seed germination, assists in nutrient uptake, helps plants resists insects, disease and frost; it aids in root development, conditions soil and acts as a fertilizer.
In addition to the horticultural applications, studies have shown that adding seaweed to livestock feed improves fertility rates, aids in gestation and birthing and reduces lameness.
Because I'm not familiar with the "shelf-life" of seaweed after it has been deposited on shore, I would recommend contacting Arramara Teoranta, a company in Ireland that processes seaweed for more information. You can visit them on the web here: www.arramara.ie
Answers
July 8, 2004
0

found this helpful
Hello Steve,
First, I think it would be good to identify what type of seaweed it is and make sure it is healthy. Probably a local university or biologist could tell you.
I've looked around on the internet and other than what has been posted here, there is a site in the UK that sells seaweed fertilizer. They have information on the benefits to the plants and the soil:
http://www.maxi … rod.html~content
Here is what we have on composting seaweed:
http://www.thri … f438007.tip.html
There are some good links in those posts also. I use seaweed on my garden but do rinse out the salt first. Please let us know how it all turns out.
Susan
By guest (Guest Post)
July 8, 2004
0

found this helpful
'Seaweed is high in trace elements and potash. It is suitable for use around larger plants and some gardeners claim that the minerals in seaweed make plants resistant to frost damage and prolong the harvest of autumn tomatoes.
There are green, brown and red seaweeds, all of them good to use. Soft fleshy seaweeds rot fairly quickly, (kelps for example), while seagrass rots very slowly........
There is no need to wash the salt off seaweed, especially if it is just one among many mulches.......
Seaweed is absolutely weed free, doesn't harbour any plant diseases or insects and looks much better than you think'
Source 'The Reverse Garbage Mulch Book' by Sandra Clayton - Publ. Hyland House 1994
ISBN 1 875657 40 1
I have used seaweed but it took a long time to break down as its so dry here. Its also illegal to collect from the beach in Australia - so send some over to me! A half a sack of seaweed suspended in a big drum of water for a few months also makes a great liquid plant food.
Regards
Jo - ex Manxwoman - now an Aussie
By guest (Guest Post)
July 8, 2004
0

found this helpful
I forgot to mention in my last post.......check out the Hebrides or the Orkneys - I seem to remember that farmers there use seaweed exclusively for spreading on their fields
Regards
Jo
By guest (Guest Post)
July 9, 2004
0

found this helpful
Thank's to all of you who have taken the time to post feedback comments to our "smelly" problem!
Local farmers and some members of the public have come forward and we have now got rid of nearly 1000cum. Farmers seemed to be fine and accept it "as seen" but are intending to leave alone in fields to allow the seaweed to breakdown naturally. By delivering it free to farmers, the Council has saved huge amounts of money which would have otherwise been spent on land-fill charges.Also we are now returning ammenity beaches back to the public in time for the school summer holidays. Good job done!""
By guest (Guest Post)
January 28, 2006
0

found this helpful
what are the beauty benefits of seaweed?
Answer

this Question

...
April 28, 2009
0

found this helpful
Can I use seaweed for composting? The ThriftyFun community gives advice to coastal dwellers. Post your own tips here.
Add To Compost Like Leaves
I saw part of a really interesting movie filmed in Scotland. The farmer was hauling seaweed from the sea to spread on his field. I think seawood would be a great compost material, added like leaves. Maybe layer soil, seaweed, newspaper and kitchen scraps. I sometimes catch rain water in big plastic tubs. Algae grows in it and I dump it on my compost.

Liz
Liquid Fertilizer From Seaweed
I'm not sure about composting seaweed, but you can make a fantastic seaweed liquid fertilizer. What you do is to find an old metal drum, or plastic garbage (trash) container of 10 gallons capacity. Half fill it with seaweed, topping it up with water and allow it to stand for 3 months. This liquid is very strong and must be diluted before use. If it's too strong, it can cause burning of plant roots. A solution of half a cup of stock liquid fertilizer to a bucket of water, or 4 fl oz for every 2 gallons. I have used this once and had a great success. Now that I've moved close to the beach again, I will probably adopt this once more.

Cheers

Bev in Oz
Composting Tips
I do a lot of gardening and composting. The first thing you would want to do is go to sites and learn about composting in general. There are ratios of the dry to wet matters, usualy given in a carbon ratio (carbon is the dry stuff). If you do not have a lot of leaves, torn newspaper is a great substitute as it has a very high carbon content and if you have a lot of green/wet matter it will break down faster (cellulose in the newprint breaks down slower than leaves and other things). One thing to keep in mind with seaweed is the salt content. Usually seaweed is used as a benificial additive to a compost pile for trace minerals, but too much and you might run into a problem with salt. This could be one reason the reader making seaweed fertilizer found it very strong and caused some damage if not diluted.

I also live by the coast and contacted the local extention to ask about added salt to my compost. Their suggestion was to only gather seaweed after a storm. The fresh seaweed has a lower salt content than seaweed near the shore that is exposed repeatedly with the tides. Also, they said if you are using it regularly, it would be a good idea to rinse it off to remove some of the salt water as a precaution. (just so you know, used coffee grounds are also a great addition and count as wet matter but well worth finding more dry to compensate). I did take care of the "where do I find more dry" problem a couple of easy ways. I went to local churches, especially the orthodox and others which have to burn or return plants used in services back to nature. They are more than happy to have someone come and return these plants to the earth and also get benefit from them. let them completely dry before adding them to your compost. Another cool benefit of this is they use a lot of bulbs like tulips and lillies. You can cut the tops and plant the bulbs. You get compost, free bulbs and brand new pots.

I have three huge compost piles (4'h x 6'diameter rounds in fencing) in varied degrees of "doneness". I'm thinking of adding another church to my "repertorie". I also drive the neighborhoods when it's "leaf time". When people are raking, I ask them if I might take a bag of leaves for my compost. Never got a "no" yet, and have met some really nice people that call me when they will be cleaning up so I can stop by if I want too!! (I bring or supply "my regulars" with the huge lawn debris bags so it saves them from buying bags and they don't have as much sitting in front of their house waiting for trash day, kind of like everyone benefits!). Never can get enough of that "black gold", ya know!

Just watch that salt! PH is adjusted very well in the normal process of composting so that's not as big a worry. Good luck!

By Kathy
Seaweed Is A Composting Goldmine
Absolutely, it is prized as compost. Better than cow manure in nutrients. You are sitting on a goldmine

By Ciro
Dry Seaweed Before Adding
To use your seaweed as fertilizer it is best to dry it out, then crush it and mix into soil. This is the method I use each year with fantastic results. Good luck! PS: You will need a lot of seaweed for this, it dries up to a small amount!

By Lynda
Expert Advice
"In a compost heap, any material that once lived can be recycled. Anything that will break down into good organic matter may be used. Such as: animal and bird manures, kitchen scraps, seaweed or seagrass, grass clippings, straw, weeds, shredded vegetation, newspaper, untreated sawdust."

http://www.organicdownunder.com/Compost.htm
"An important consideration is the effect of salt from the seaweed on the sodium absorption ratio (SAR) of the soil, which in turn affects soil permeability (High SAR is associated with decreased permeability in clay soils). Without going into a lot of detail on soil chemistry and calculations to determine SAR (consult a soil chemistry text if you want to know details), you want to keep SAR low (generally below 10) by minimizing the amount of sodium (salt) you apply to soil. This is propably of greater concern in low rainfall climates (rainfall will leach out excess sodium). As a precaution, you may want to rinse seaweed before composting if you live in a dry climate."

Source: Colorado State Discussion List (Archive No Longer Available)

"Someone else has replied about the nitrogen, but I should like to point out seaweed is a good source of most of the trace elements which plants need for good health. As the land erodes away all the mineral elements in the rocks eventually end up in the sea where they are taken up by both sea plants and animals. (So both seaweed and fish wastes are good mineral sources.) In addition seaweeds have been found to contain plant growth hormones and other goodies which enhance their fertilizing capacity. While fresh seaweed has the most "goodies" even the black stuff should have value and if it has lain about in the rain probably most of the loose salt has washed off."

Source: Colorado State Discussion List (Archive No Longer Available)

From the Recycling Advisory Group Scotland

"Yes seaweed can be composted but there are both good and bad sides." The article is rather long. You can read it here:

Happy Gardening!

Doris in VA
Answers:
Composting Seaweed
I'm from Ayrshire in Scotland and the Ayrshire potatoes have always been held in high regard. The reason is that seaweed is used as a fertilizer on the fields. On thing I would do is leave the seaweed outside for a few days, either in the rain or use the hose, to wash off excess salt then add to the compost pile.
(04/27/2007)

By Greg