I am very organized. Not bragging at all. I come from a very large family and I am very used to having very large holiday dinners. I'm also good at finding many short-cuts to make my life easier. It works. Trust me! It works!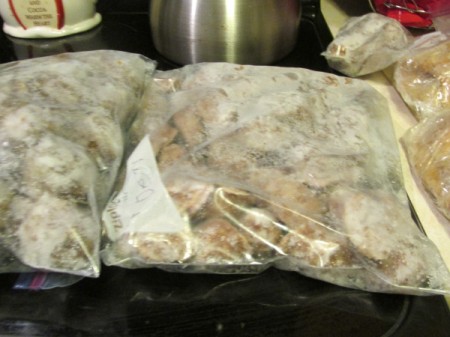 I am having a Christmas party on the 11th, and 10 days before I started cooking. I am serving all Italian food and much more. I have already made my fresh Italian meatballs, all made, rolled, cooked on a cookie sheet, cooled and put into a freezer bag and put into the freezer. Same with Italian sausage, cooked, drained, sliced in bite sized pieces, cooled and put in a freezer bag and in the freezer.
I made 2 very large Calzones filled with all deli meats and cheese, then chopped fresh tomato, pickles, basil, oil and vinegar, cooked, cooled, wrapped very tight and into the freezer. The Calzone are great to freeze, because when you start to thaw them, you can slice them before they are thawed, and you get wonderful thin neat slices. You just reheat on a cookie sheet and they come out great. The meatballs and sausage just get put in your sauce. All my desserts are made and in the freezer.
This is such a big stress relief for me and leaves me with so much less to do.
One other tip: I bought all pre-sliced block cheese for cheese and crackers and found the price exactly the same. Shop and compare! I just want to enjoy my own party! :)