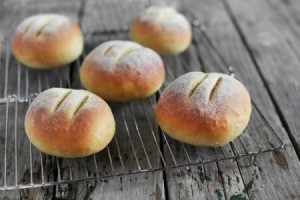 Yield: 1 1/2 dozen
Ingredients
1 package dry yeast (about 2 1/4 teaspoons)
1 tablespoon sugar
1/4 cup warm water (100 to 110 degrees F)
1 1/2 cups 2% reduced-fat milk
4 1/3 cups all-purpose flour, divided
1/3 cup cornmeal
3 tablespoons butter or stick margarine, melted
1 1/4 teaspoons salt
cooking spray
1 large egg white, lightly beaten
1 tablespoon water
1 teaspoon cornmeal
Directions
Dissolve yeast and sugar in warm water in a large bowl; let stand 5 minutes. Stir in milk. Lightly spoon flour into dry measuring cups; level with a knife. Add 4 cups flour, 1/3 cup cornmeal, butter, and salt to yeast mixture; beat at medium speed of a mixer until smooth. Turn dough out onto a floured surface. Knead until smooth and elastic (about 10 minutes); add enough of remaining flour, 1 tablespoon at a time, to prevent dough from sticking to hands (dough will feel tacky).
Place dough in a large bowl coated with cooking spray, turning to coat top. Cover and let rise in a warm place (85 degrees F), free from drafts, 1 hour or until doubled in size. (Press 2 fingers into dough. If indentation remains, the dough has risen enough.) Punch dough down; cover and let rest 10 minutes.
Divide into 18 equal portions. Working with 1 portion at a time (cover remaining dough to keep from drying), divide each portion into 3 pieces; shape each piece into a ball. Coat muffin pans with cooking spray; place 3 dough balls in each muffin cup. Cover and let rise 10 minutes or until doubled in size.
Preheat oven to 350 degrees F. Uncover rolls. Combine egg white and 1 tablespoon water; brush over rolls. Sprinkle with 1 teaspoon cornmeal. Bake at 350 degrees F for 25 minutes or until golden brown. Remove from pan; serve warm.
By Kathy