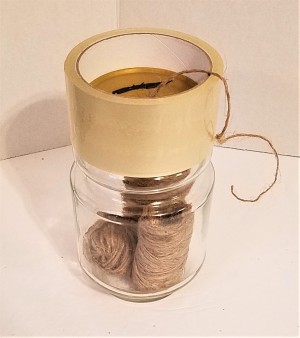 I was tired of the roll of strapping tape and the twine falling out of the pantry every time I needed something next to them. So today, I saw and empty jar and went "Hey!".
I tested the tape to make sure it fit on the jar lid, then heated up the hot glue gun to make a hole in the plastic lid. Then the rest was just threading the end of one of the little spools of twine through it, and setting the tape on the lid.
Both are secure, and you can even keep the tape on the lid if you need to open the jar to replace or restart the twince, as it's pretty snug. This was a Folgers instant coffee jar and Dollar Tree tape. I think the tape is the same size as all the expensive ones, but the jar could be any jar you like, even a plastic one.
Just remember it's nice to have the weight of glass or a plastic one that is wider at the bottom so the jar isn't top heavy.
Hope this helps. PBP