Craft Painting Tips
Solutions
Share on ThriftyFunThis guide contains the following solutions. Have something to add? Please share your solution!
In many painting and craft projects, one finds themselves needing to make dots. I have used this idea for years and it hasn't failed me once! It's easy and inexpensive. No high tech tool needed.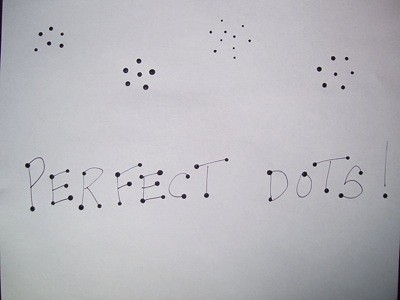 Take straight pins with different sized heads and some pencils with erasers. Snip half the shaft of pin off and push each into it's own eraser, leaving head of pin raised slightly above eraser. Done! Just dip pin head in paint and dot away. Wipe pin head off when done and when it gets old, just pull it out and replace with another.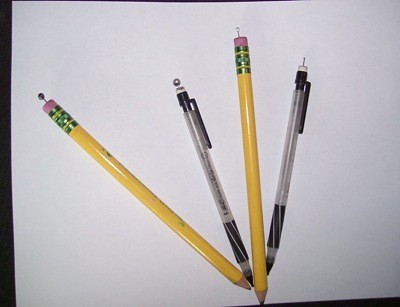 You will get so good and fast at this, you will be able to do it with your eyes closed! Happy Dotting!
By maryeruth from Palm Coast, FL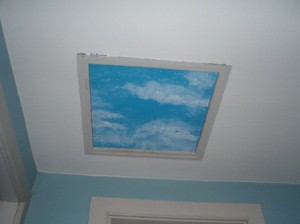 Our over 200 year old home has a square opening in the attic that was obvious. I changed it into a skylight with paint!
Approximate Time: 10 minutes
Supplies:
blue cardboard the same size as your attic opening
white tempera paint
optional: clear plexiglass the size of attic opening
Instructions:
I just cut my blue posterboard to slightly smaller than my attic opening>
Then I quickly swirled some white paint (in a circular motion) onto my blue posterboard.
When it dried I just popped it into the framed attic spot.
You could add a piece of Plexiglas to help replicate a window (and even use white tape found in craft stores) to replicate panes of glass frame), but I just use it without either and envision that I now have a skylight! :)
I think it looks whimsical and pretty! What do you think?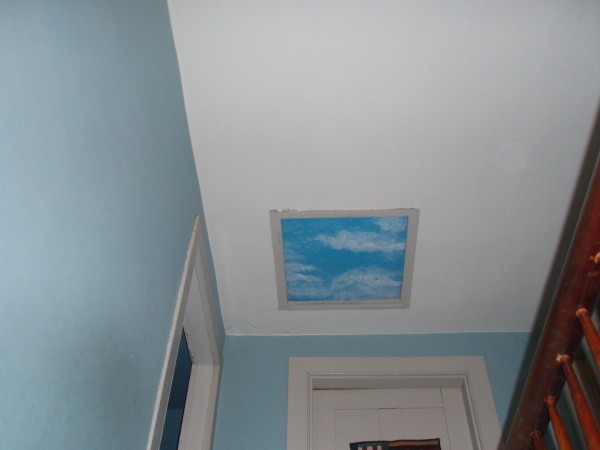 By Donna from Sterling, PA
After using wax for my warmers, I don't throw the plastic away. I use it for paint compartments for small projects. The lid snaps and keeps my paint fresh.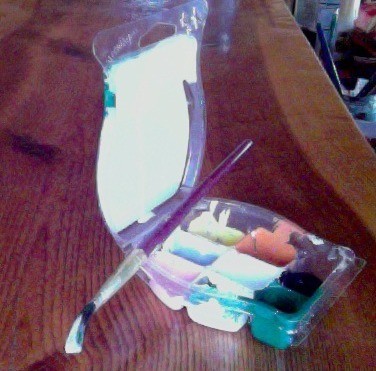 Read More...
I recently started going to art therapy for PTSD. I've learned that I love to paint. I highly recommend painting for everyone!

Read More...
If you've ever tried to spray paint into a hard to reach area without spraying everything around it, this tip offers a simple, yet effective way to handle the problem. Simply use an empty paper towel or toilet paper tube, depending on how far it needs to reach, and do your spraying through it.
Read More...
I enjoy craft painting and I always need something to mix colors in. I normally use Styrofoam egg cartons. I started saving Buddy's dog food containers and and the other day hubby needed some brown/tan paint to repaint a dog statue that was left for the path garden.
Read More...
September 10, 2008
0

found this helpful
When I have a quick need to do a small paint job I use plastic bags for gloves. When finished I throwh them out.
Read More...
Questions
Ask a QuestionHere are the questions asked by community members. Read on to see the answers provided by the ThriftyFun community or ask a new question.
I am so frustrated trying to paint my crafts. I am making a lot of different crafts using clay, glass, and wood and they all need to be painted. It doesn't matter what I do, I just can't paint without having unsightly brush lines. I start with a primer and I have good paint brushes, but that doesn't seem to help. I'm really getting discouraged and I'm ready to give up. So, please, any help is greatly appreciated!
Answers
December 5, 2016
1

found this helpful
The brushes should be kolinsky or any other real fur. Usually seem to be squirrel. And watered down a bit maybe. I use a stay wet pad. A wet sponge with special paper on top that you put the paint on and it does t dry up as you use it it is so good. I paint in miniature in nails but hope this helps
December 5, 2016
0

found this helpful
What kind of paint are you using? If acrylic, you may want to try an enamel paint or a paint made for painting on glass.
December 6, 2016
0

found this helpful
if I am doing something that i do not want brush strokes. i actually use my finger.. i brush it on , and then go over it with my index finger to smooth it all.... working quickly it will smooth it out nicely
December 7, 2016
0

found this helpful
I dab with a cheap cheap sponge. never any marks!
December 7, 2016
0

found this helpful
Adding water to acrylics helps remove the "drag lines" from a brush. You may also lightly mist for painted item with a fine mist waterer after you finish!
For larger painting projects, You might consider an inexpensive manual airbrush aspirator. You make up looser acrylic paint in a small glass container and use what looks like two metal straws connected on a hinge. You insert one straw into the paint, the other straw is at a 90 degree angle to it ( they will look like an inverted capital L). You blow through the end of the horizontal straw and it will lightly mist the paint onto you project.
It makes a professional, smooth coat of paint on your project. Of course you can buy an electric airbrush set up as well!
Happy painting!
December 8, 2016
0

found this helpful
I keep a spray bottle with water and spray my paints often as I apply. Moisture should do away with paint/brush lines.
Answer

this Question

...
I have gray craft paint I would like to make black. Will hair color work for this?

Answers
June 6, 2019
0

found this helpful
I would mix like kinds of paint. I would get craft paint for this
June 6, 2019
0

found this helpful
Not a good idea. When I first started painting and trying to be frugal in the 1980s I tried several things that all had bad results:
1. Mixing food coloring with craft paints (they faded within weeks).
2. Mixing house paint and craft paints (I had a gloppy mess on my hands)
3. Mixing rit dye with craft paints (it was powder and water and it was awful.
4. Mixing liquid shoe polish with paint (just NO--very runny and goopy)
I decided then it was not a good idea to mix things that were not likes. Now, you can mix different brands of the same craft paint--like oils with oils and acrylics with acrylics.
To get gray to be black, you would be best off just buying black. You will use it for everything if you are going to paint. I loved mixing it with my lighter colors to get interesting blends. My staples were the primary colors--well worth it if you are going to paint something special!
Blessings!!
June 7, 2019
0

found this helpful
Try to keep with the same type of medium. If you try things like hair dye, it will separate over time and not bode over well. Try to get a plain black paint.
Answer

this Question

...
I saw someone at a craft fair painting with chocolate. Can anyone tell me the ingredients and consistency to use?
By Isobel Gregory from Scotland
Answers
July 26, 2010
0

found this helpful
Here is a detailed instruction on it. I would like to try this myself sometime, maybe this winter when the snow is flying.
http://eyecandy akaze.net/?p=313
July 27, 2010
0

found this helpful
My retirement job for the last 6 yrs has been helping a friend in her busy season at her chocolate business. I actually do a lot of the painting. It is very easy. You need the basics of white and either milk or dark chocolate but depending on what you want to paint, you will likely need more white than 'brown'. We use small porcelain containers but baby food jars work well to hold the various colours as well. An electric fry pan or even a heat stone will work to keep the chocolate sufficiently melted to paint. A very small amount of cocoa butter (available at most bulk stores) to keep the 'paint' thin, and cocktail swizzel sticks or a tool to suit the size of your project, even a spoon works for large areas, to paint with. Toothpicks work but are way more tedious. You will need some for the very fine bits though!
As for colour, never, ever use liquid with chocolate. You can use either the powder or gel colouring that you can buy for cake icing. Simply melt your basic chocolate (we use wafers) either in a microwave, very little time, or in a hot water bath. Add a bit of the colour agent and stir, adding until you get the colour you want. If it is too thick but still warm, add a pinch of cocoa butter to thin it out. Do not let chocolate "cook". If you are using molds, simply colour in reverse, starting with the first layer of the mold and work out. Let each colour dry before adding the next. (Takes about 5 min. putting in the fridge speeds up the process.)
Colours can be kept for quite a while, just let the container harden, then re-melt the next time you want that colour. The secret is to keep the 'paint' warm and thin enough to work with but not so thin that it runs. Trial and error will be your best guide but it is not difficult at all. Have fun!
Answer

this Question

...
Could anyone tell me how to soften water based paint in artist tubes please?
Answers
November 19, 2015
0

found this helpful
You can add a tiny bit of water IF the ACRYLIC paints are not fully dried up and you must stir a lot. IF they are, then it is best to toss them into the garbage as they will clump and be grainy to paint with. Apparently, it is the ingredient in water based paints that dries up and becomes almost plastic like and it's never the same. I keep my acrylic paints in an airtight popcorn tin when not in use. Another suggestion I read was to use a dropper to remove a little paint at a time from the bottle and reseal quickly and that any specks of dried paint around the cap can cause paint to dry up quicker. Keep them wiped off well for that reason.
Answer

this Question

...
Related Content