I drink a lot of pop. I was looking at the holders the bottles come in (6 pack) they are a bit different than the old nasty traditional 6 pack rings. I was looking at one and thought there should be some kind of craft they can be used for.
I am at a loss, however, to come up with any good ideas.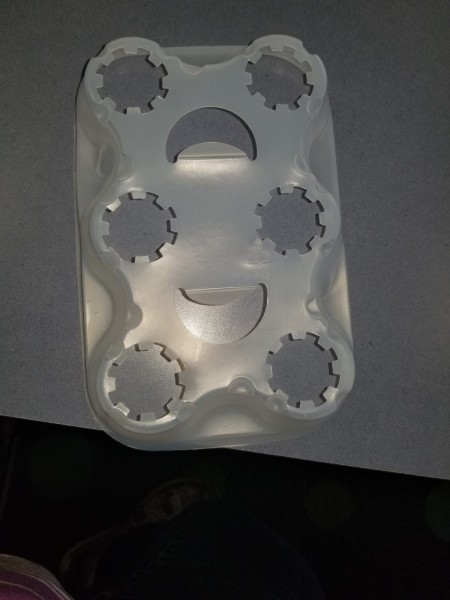 Please help!

Pghgirl40
Bronze Feedback Medal for All Time! 196 Feedbacks
October 9, 2019
0

found this helpful
Best Answer
These are different! I don't think the crafty people on Pinterest have gotten up to speed because I don't see too many ideas for using this kind in a crafty way. All of the crafts I see are for the other kind.
You could use these in drawers for dividers, but since they have the openings at the bottom, it would just to divide, not to hold things to move them around.
There was only one idea on Pinterest that even remotely looked useful...and it was to use them to hold embroidery floss.
Maybe you could come up with something neat and share it so others could learn from your ideas!! There is a need to find good ways to reuse these if they are going to continue to be made.
Sadly, when I see things like this I get angry and stop buying the product until they make something that is better for the world (I write a lot of letters and send a lot of emails). There are supposed to be a new generation of these holders that are biodegradable:
www.theverge.com/.../beer-rings-fish-food-edible-saltwater...
I am not yet sure if these that I have the link for have proven to work and not poison the fish/turtles...but it is a good start, although they have not made it to my town...at least that I have seen.
I am sorry for my little rant...I am like you and want to remake everything I have to toss into something...but not everything can be remade into something useful and that is when I get frustrated!
If they are not re-makeable...can you at least recycle them?

poehere
Bronze Post Medal for All Time! 105 Posts
October 9, 2019
0

found this helpful
Best Answer
I have been playing around with plastic bottles and other types of plastic to see how it can be used again. I did find out that if you take a hot air gun and use this on the plastic you can melt it again. The type of holders you have could be used to feed balls of string or yard through them to help you organize them.
You can also use these types of holder to store your material in to help hold them in place. You will need to cut them apart in order to do this one.

January 13, 2020
0

found this helpful
Best Answer
it could be an ice fishing craft--- paint it white, add some artificial snow and glue it on or iridescent white glitter, whichever you prefer and then add in some posable men ice fishing in their "fishing holes". And then add some fishing line to a bobby pin hot glued together. Get some mini galvanized silver buckets sold on amazon and some mini rubber fish to put into buckets and there you go! Ice fishing scene!